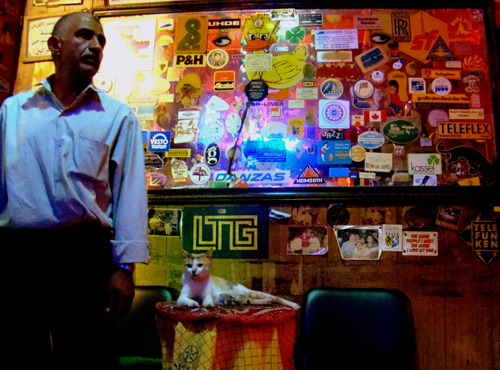 Once the metropolitan capital of the Mediterranean, today Alexandria has shed most of its former skin. Spitfire is one of the city's oldest bars, and one out of a handful of hidden watering holes frequented by an eclectic crowd of students, artists, old-school Alexandrians, Cairene tourists and foreigners searching for a quiet, welcoming and laid-back space. Similar to downtown Cairo bars such as Cap d'Or and Café Riche, Spitfire is pregnant with history and heavy with an atmosphere of former hedonism, now considerably placated.
Inconspicuously located on a street corner facing a crowded market square by the Manshiya Telecom Egypt office, Spitfire's faded brick entrance is obscured by the flashing lights and loud music of the clothing store next door, where plastic legs modeling Chinese-made jeans form a protective barrier. You'll only see it if you're looking for its subtle signage, and Spitfire's managers and longtime patrons prefer keeping it that way.
The narrow interior of Spitfire feels crowded even when few people are inside — the layers of posters, stickers, postcards and other paraphernalia from all around the world cover every wall, mirror and frame. Bright, festive decorations hang from the ceiling, and above the bar on the right side, a neon blue Stella sign flashes between a sign in Polish and a Swedish flag.
A faded cover of a 1950s edition of Life magazine hangs next to a cascade of international paper money from different decades, a clown mask and baseball caps. It seems that everyone from everywhere has come and left their mark somewhere in Spitfire. There are scribbles of love on the wall next to a doodle of a sad panda in black-felt pen, and a credit card is wedged firmly into a picture frame next to countless passport photos and business cards.
Spitfire's interior dictates its atmosphere of cultured chaos through the imprint of its decades of patrons: First-timers will have a hard time taking their eyes off the many little stories told on the surface. Spitfire earned its name after a World War II British fighter plane; a picture of the fighter plane hangs on the wall next to a sign that reads, "It is prohibited to serve alcohol until drunkenness." It is perhaps one of the longest-standing bars in Egypt. It was opened in 1883 by a Greek man, Dominus Kharalambo. Kharalambo adopted and raised 11-year-old Hassan al-Sayed Osman and his brother Fouad, who managed the bar.
Today, Fouad's sons, Ali and Gamal, continue to run it. They are intrinsic parts of the Spitfire experience; usually you'll find one of them sitting on a wooden stool by the entrance as a lazy cat entwines its tail around his legs, or standing next to the Stella tablecloths, his eyes perusing the smoke-filled den.
Ali's name is called out continuously over the 1970s rock music played throughout the night. He'll lean in and crack a joke with a poker face, or roll his eyes at the group of hip, young Egyptians with piercings and Emo haircuts — they usually order one beer each and sip them surreptitiously throughout the night. Ali will eventually get fed up and try to get them to leave. He doesn't want Spitfire to become trendy; it already has its large following of dedicated patrons.
"We have students, intellectuals, activists, travelers, professors and foreigners, and every consul from every country has been to Spitfire," he beams. "Every consul, except for the Egyptian consul. I wish he would, even if just to order a Pepsi. It's not a democracy if we don't get the Egyptian consul to visit."
Drinks are cheap here; a beer costs LE14, a shot of gin around LE20. There is no menu, save an obscure and faded sign on the wall hidden by dangling decorations. If you ask for one, be prepared for one of Ali's barely disguised looks of disapproval. This is a basic baladi bar with basic drinks — wine, beer, local and imported spirits and sodas are sold. Don't ask for a pina colada; you might be extradited.
A plate of peanuts is served on red carpet-like tablecloths. The floor is covered in Spanish-style ceramics. This is a bar that sailors and hard drinkers once frequented. It's the stuff of urban legends, a place for "bad people of ill repute" and nights of drunken debauchery. It was smelly, crowded and comfortingly anonymous in its poorly lit, poorly ventilated space. Today, that glamorous image of hedonism is no longer there, but the clientele cling to this memory and identity like the faded stickers on the mirrors.
"When you're a stranger in a country like Egypt, and you see a bar that's like your hometown with familiar music and stickers in your language, you'll lose 40 percent of your homesickness," says Ali. "Just like I would if I went to an café in Turkey and saw Al-Limby, or heard Om Kalthoum — I'd feel almost home, all that's missing is my family."
Ali is clearly the talker of the two; he trades friendly banter with the patrons and shows me the tattered newspaper articles about Spitfire that he's kept in an envelope behind the antique cash register that carries a vintage "Toz" sticker and two veiled women's faces. Spitfire has been featured by Spiegel, the BBC, Al-Ahram and a Swedish newspaper, according to Ali. By pure osmosis, Ali and Gamal speak traces of Greek, German, Italian and French, as many Alexandrians did back in the day.
As Deep Purple plays out over the sound system, all male patrons' eyes are fixated on the tiny TV screen showing the football match while the few young women roll their eyes. Amid the heated banter about the upcoming presidential election, Ali remains nonchalant. Neither politics nor the talk of the Islamist parties fazes him.
"We have no trouble in our area [with the Islamists], we have good relations with our neighbors," he says. "Most of our patrons are foreigners anyway, so we're safe."
Fireworks burst close by, a little too close to the bar, but the patrons barely flinch. When asked if he'd ever consider selling the bar, Ali is visibly insulted. This is a family business, after all, and he shakes off the notion of money as if it's poor taste.
"We're not concerned with money," he says, shrugging. "If we were, we'd have sold that painting of the French emperor." He points at a large oil painting above our heads. "That's been around for 100 years, you know."
There's a strange comfort to Spitfire and the quiet that falls on the Manshiya market square late at night. The streets are empty, the alleyways are dark and there's a fresh breeze that reminds you of what Alexandria once was and what it could be today. Just as many seek refuge in the baladi bars of downtown Cairo for an alternative space free of judgment, Spitfire gives a home to the strangers too, both locals and foreigners alike.
Spitfire; 7 Old Borsa St., off Saad Zaghloul Street, Manshiya, Alexandria;
03-380-6503; 6 pm–12 am