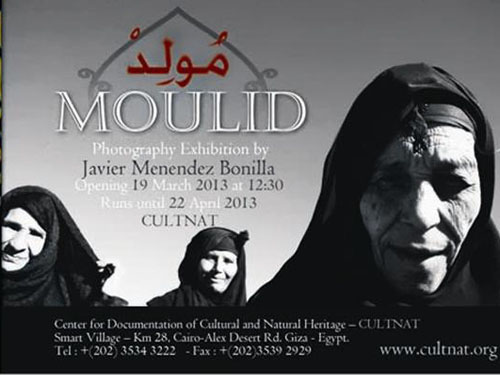 An amateur Spanish photographer with a passion for reporting, Javier Menendez Bonillahas traveled the world and lived in many countries as part of his work for the European Union's Economic and Social Development Department.
But throughout his journeys, Menendez Bonilla has always maintained a certain infatuation with Egypt, where he lived and worked with the EU delegation from 2006 to 2010.
In particular he developed a zeal for moulids or the celebration of a holy figure's day of birth. As part of his exploration into this ancient tradition, Menedez Bonilla spent two years attending moulids across Egypt, from celebrations in the Nile Delta to ceremonies in Upper Egypt that honored Muslim and Christian icons. He also witnessed the only remaining Jewish Moulid still held.
"It is a popular tradition of Muslim and Christian life," explains Menendez Bonilla, who is posted in Ankara now. "I am captivated by moulids as they capture the true spirit of Egypt. It is a fascinating experience. Only there do you see the hidden, unknown Egypt that we cannot see in the big cities or in the promoted image of modern Egypt we usually see in mass media."
Moulids are happy occasions where families and friends meet, spend time together, eat good food and be merry, he explains. "It is during moulids that I have come to see the natural, spontaneous and authentic nature of everyday Egyptians. Almost every town has its own shrine for its holy man and its own moulid," he says.
But Menendez Bonilla didn't just attend the Moulids. He also captured them on camera, including several famous Muslim celebrations such as Sayyida Nafitha, Sayyidna al-Hussein and al-Refai as well as major Coptic Moulids Al-Adra and Mari Girgis.
The Spanish photographer didn't miss out on some less well known Moulids like that of Sufi Sheikh Abu al-Hassan al-Shazly, which is held in the middle of the Eastern desert between Aswan and the Red Sea.
With his camera, Menendez Bonilla captures everything from the preparation for the moulid starting days before the event by mawaldiya — groups of people travelling from one moulid to another selling sweets, clothes and toys.
Many of the moulids feature vibrantly colored tents erected to house different Sufi groups, with crowds of visitors building every day, who often make long journeys to participate in the special occasion culminating in "Al-Leila al-Kebira" or "The big night." This is the last day of the celebration and the most festive part of any moulid.
Although Menendez Bonilla enjoys all kinds of moulids, he is most fascinated by Muslim celebrations.
"It is because of the devotional chants and prayers. Inshad music, Zikr swaying back and forth, people of all ages moving their bodies and speeding up to the rhythmic beating of drums," he explains. "They are more vivid and more energetic. All this mystery, colorful movements and rituals are paradise for photographers."
Some of his best work is being shown for the first time in the Center for Documentation of Cultural and Natural Heritage, one of the Bibliotheca Alexandrina institutions stationed in Cairo.
The center is affiliated with the Ministry of Communication and Information Technology Ministry and aims to incorporate the latest technological innovations to document Egypt's cultural and natural heritage.
"Menendez Bonilla offered the center 200 photos from his collection, documenting moulids across the country," says Yasser Elshayeb, the center's director. "The documentation of cultural heritage and civilization, such as ways of life, customs, traditions, clothing, jewelry, foods and handcrafts, are what we focus on here at the center, so we were naturally interested in his photography."
Elshayeb adds that Menendez Bonilla introduced him to the religious celebrations. "Actually it was Menendez Bonilla who took me to my first moulid in Sayyida Zeinab festival in 2007."
Elshayeb said CULTNAT plans to continue to showcase moulids and may even publish a book featuring work from numerous exhibitions.
In May, the center is set to host a photographic exhibition and seminar on Egypt's botanical heritage.
The Moulid exhibition can be seen until 22 April at CULTNAT, Smart Village, Km 28, Cairo-Alex Desert Rd, Giza. Tel: 35343222