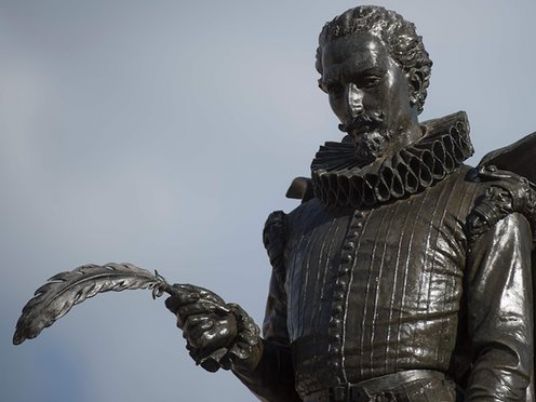 Spain marks the fourth centenary of the death of its most famous author Miguel de Cervantes this week with hundreds of events ranging from cultural to quirky… and a bit of controversy.
The author of the world-famous novel "Don Quixote" died on April 22, 1616 in Madrid but the event has always been commemorated on the 23rd — the day when he was buried — coinciding with the passing of British literary co-star Shakespeare.
A colourful figure who survived a sea battle, capture by pirates, five years of captivity in Algiers and stints in prison, Cervantes is known as the father of the modern novel and his "Don Quixote" has become one of the world's most translated works.
The book about a delusional wanna-be knight who sets out to rid the world of its ills was an overnight success when it was published in 1605 — Cervantes' portrayal of a hero as imperfect as any other human being considered revolutionary at the time.
It inspired authors the world over, from Jane Austen and Fyodor Dostoyevsky to Gustave Flaubert and Mark Twain.
"Cervantes' work is universal because it's not just limited to an era or to a country, but talks about feelings and people… It's very relevant today," says Javier Rodriguez Palacios, mayor of Alcala de Henares near Madrid where Cervantes was born.
Royals, marzipan, MasterChef
Hundreds of events are taking place in Spain over the year to mark his death — ranging from cultural happenings such as public readings, exhibitions and plays to initiatives from the socially-minded to the downright quirky.
On Saturday, the royals and acting Prime Minister Mariano Rajoy will travel to Alcala de Henares to attend a special prize-giving ceremony for the annual Miguel de Cervantes award, which honours the lifetime achievement of a writer.
Other cities around the country will also be marking his death that day, including Toledo, in Spain's arid central region of La Mancha known for its gastronomy and where the author once lived.
There, a giant figure of Don Quixote made out of marzipan will be unveiled.
But Spain will also be marking his death beyond Saturday's official anniversary.
On national television, for instance, the popular reality cooking show "MasterChef" will dedicate an episode to Cervantes, during which competitors will prepare dishes that are mentioned in "Don Quixote."
And primary school students in Alcala de Henares will this year be tasked with writing the third part of "Don Quixote" to complete the first and second tome of the novel, which Cervantes published in 1605 and 1615.
Controversy
In a statement, King Felipe VI said the commemorations would "help highlight what unites us," at a time when Spain is mired in political uncertainty as parties fail to agree on a coalition government after inconclusive December elections.
But several academics and artists have expressed dismay at the lack of central leadership over the commemorations — particularly compared with Britain's parallel celebrations marking Shakespeare's death.
Many pointed with envy to a January ode to Shakespeare by British Prime Minister David Cameron that was translated and published in newspapers worldwide, from Spain's El Pais to the US Miami Herald.
Rajoy did end up writing his own piece on Cervantes in March in the El Mundo daily.
Adding to this, Rodriguez said the government had not allocated any central budget for commemorations and each region, city or entity is having to finance them out of their own pocket or through sponsorship, although some qualify for tax incentives.
The official programme of events was also slow in coming, and photographer Jose Manuel Navia — a Cervantes fan and author of a commemorative exhibition in Madrid — said authorities appeared to be playing catch-up as the anniversary approaches.
He pointed to the fact that regional authorities in Castilla-la Mancha, where "Don Quixote" is set, had only just entrusted him and eight other photographers with a commemorative project… to be finished in May.
Laughing, Navia recalled that another photographer had leaned over when authorities presented their project in early April and said: "We knew about this some 400 years ago."
But for Rodriguez, there is no time for regret.
"We have to look ahead and try and organise as many activities as we can… I think this is going to be a good Cervantes year."