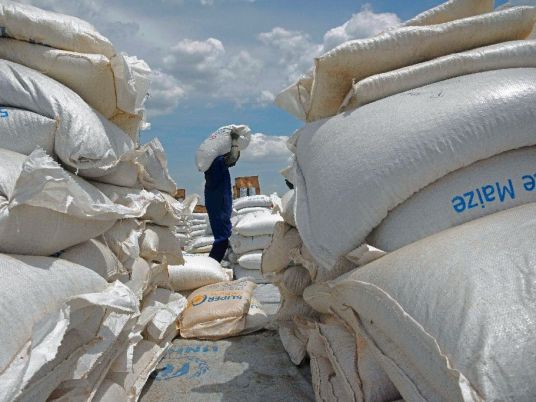 Uganda has been praised for its warm welcome of refugees, but as civil war in neighbouring South Sudan continues to push more than 2,000 people a day into the country, local communities and aid agencies are buckling under the strain.
Ugandan motorbike taxi driver Sadiq Agotre grumbles as he waits for a rare client among thousands of South Sudanese refugees hoping to receive food rations in the outskirts of his town.
"Business is not good. These people don't have money," he says, gazing out over a vast area that in only eight months has transformed from scrubland and trees to the world's biggest refugee settlement, Bidibidi, which houses more than 270,000 people.
Refugee children from South Sudan walk in Bidibidi resettlement camp in the northern Ugandan district of Yumbe (Isaac Kasamani / AFP)
Many residents of Yumbe district — population around 500,000 — are frustrated that the massive aid effort in their backyard has not translated into more jobs but instead has spread already scarce resources even thinner.
"This (the refugee crisis) has changed the town so much. It has caused a lot of stress, stress for jobs. The food prices have gone up and up. It's bad for our environment because they cut down the trees," said Nachal Dovelay, a shopkeeper in Yumbe town.
Bidibidi opened in August last year to cope with a flood of people fleeing fighting when a peace deal between South Sudan's President Salva Kiir and his rival and former deputy Riek Machar collapsed, plunging the country back into a civil war that erupted in 2013.
In a matter of months it has overtaken Kenya's Dadaab — hosting mainly Somali refugees — as the world's biggest refugee camp.
But the 250-square-kilometre (97-square-mile) settlement is only the tip of the iceberg. A total of 830,000 South Sudanese refugees have entered the country and the UN expects this figure will reach more than a million by mid-year.
The number of refugees in the East African nation — one of the world's poorest countries and the size of the United Kingdom — is comparable to the number of mostly Syrian refugees who fled to Europe at the height of the migrant crisis in 2015.
"This emergency is like a tsunami, you know, very high speed," said Robert Baryamwesiga, the Ugandan government official in change of running Bidibidi.
Food Rations Stretched, Delayed
On a recent afternoon a fierce dust-devil tore through a crowd waiting for food rations, sending people reeling and knocking supplies to the ground.
When calm returned, a girl aged about seven carefully raked up her family's fallen maize kernels and scooped them back into a sack.
Every scrap of food is precious. Refugees who arrived in Uganda before mid-2015 have already had their rations cut by half. This month food distribution was two weeks late.
"We are hungry. The food is for one month but it lasts less than that and now it's 15 days late. This is really challenging," said David Kepo, 41, a traditional chief who fled fighting in his community three months ago.

Restaurant owner Zura Tairi prepares a dish in the northern Uganda district of Yumbe (Isaac Kasamani / AFP)
Cheryl Harrison, the World Food Programme's (WFP's) deputy head in Uganda, admits that the logistics involved in delivering 15,000 tonnes of food per month are daunting. "We try to ensure that everyone knows that we're going to be late. If people have warning they're able to cope. They reduce the amount of food they eat and try to make their resources stretch."
Before the renewed fighting, WFP spent $6 million (5.6 million euros) per month on food aid for refugees in Uganda. That figure has now soared to more than $16 million. The agency is $50 million short for the next six months.
Last month UN refugee chief, Filippo Grandi, described the situation as at "breaking point".
Anger Growing in Host Community
Getting water to the refugees in the arid area is another headache, with more than four million litres required a day.
Boreholes have been drilled but the vast majority of the water is trucked in from the River Nile at great expense.
The use of natural resources has lead to tensions with the host community. In a desperate move, local residents recently blocked access to one borehole for several hours, saying that they were not benefiting from the influx of refugees.
"The issue of the use of natural resources — building materials, wood, fuel — that one has been a disaster. With 272,000 people the effect is great and unemployment here is very high," said local government official Jacob Batemyetto.
In February about 100 people, unhappy that nine local staff had been fired for misappropriating aid, held a protest, holding up signs threatening to attack the settlement, according to NGO staff.
And last month the chief government official in Imvepi — a newly opened nearby settlement — was taken hostage by a group of machete-wielding youths and marched around the area to see the poor living conditions local people are forced to tolerate before being released.
Very Fragile Situation –
Uganda has one of the world's most progressive refugee policies. The government allows refugees to work and move around the country, while communities in the north have donated land for settlements.
Refugees receive a plot of land to build a shelter and it was planned that land would be allocated for people to farm but in Bidibidi that has yet to happen. "We can't feed ourselves because they have yet to set up any agriculture programme and there's no land," said Wila James, 40, a former agricultural officer who fled to Uganda last year.
Bidibidi settlement chief Baryamwesiga highlighted the dangers of a growing population unable to produce their own food. "They will automatically go and steal.. and stealing will create violence, so you'll find that the coexistence that we're enjoying between refugees and the host community will collapse. It's a very, very fragile situation."
Report by Michael O'Hagan (Yumbe, Uganda); Agence France Presse