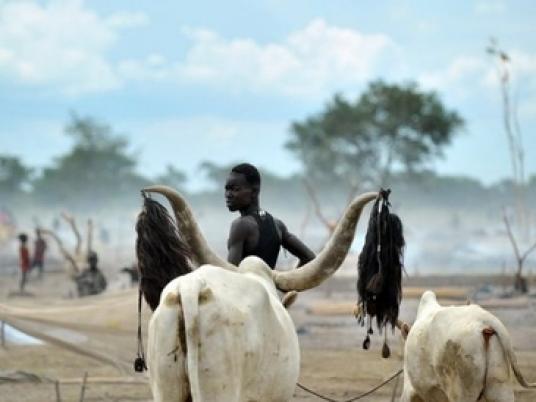 Rebel forces in South Sudan said government troops attacked their garrison in a town in the north on Tuesday, and they threatened swift retaliation, stoking fears of another full-blown military confrontation in the young nation.
Political rivalry between South Sudan's president, Salva Kiir, and former vice president, Riek Machar, sparked a civil war in 2013. Although the pair signed a shaky peace deal a year ago, fighting has continued and Machar fled the country in July. He is now in Khartoum in neighbouring Sudan.
Kiir's government on Tuesday asked Sudan and other states in the region not to let Machar launch a new rebellion, after he threatened a return to the battlefield unless his demands needed to revive a peace deal were met.
Major Dickson Gatluak, spokesman for Machar's opposition group the SPLM-In-Opposition (SPLM-IO), told Reuters that government forces had attacked a rebel garrison in Bentiu, the capital of Unity State, which lies near the border with Sudan to the north.
Bentiu was a flashpoint town in the war that broke out in 2013.
"The fighting started this morning at 6am (local time) and our forces managed to fight back the enemy this afternoon", Gatluak said.
"Our forces will be taking quick action against the regime in Juba," he said.
He said U.N. staff in the capital Juba should evacuate the area to avoid potentially being trapped in any fighting.
After talks in Khartoum involving senior commanders and officials of the SPLM-IO last week, Machar and his allies in a statement over the weekend ordered their forces to reorganise for "armed resistance" to Kiir's government.
"If the peace agreement can be revived then we can go back to Juba, but if not then armed resistance is an option," Machar's spokesman James Gatdet Dak told Reuters in Nairobi earlier on Tuesday.
The government, he added, must reappoint Machar, let more troops return to Juba with him, allow the swift deployment of a regional protection force and scrap decisions taken since July.
The regional grouping IGAD, which includes Sudan, has told both sides to halt the violence and aims to send a protection force to secure the peace, a move that has U.N. backing.
"We are appealing to all IGAD member state not to allow Riek Machar and his group to use their soil, including Sudan, to stage attacks and as a springboard for organising violence against the people and transitional government," deputy government spokesman Akol Paul Kordi said.
Sudanese Foreign Minister Ibrahim Ghandour said his government would not allow the armed opposition to attack South Sudan from its territory, according to a report by the Paris-based Sudan Tribune news website.