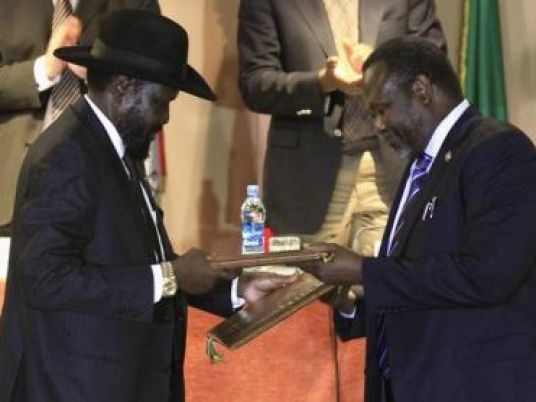 East African leaders gathered in the Ethiopian capital on Saturday in a last-ditch effort to convince South Sudan's warring sides to sign a peace deal, ramping up pressure before a Monday deadline to end a 20-month civil war.
The world's youngest nation, which gained independence from Sudan in 2011, descended into chaos in December 2013 when a political row between President Salva Kiir and his deputy Riek Machar spiralled into armed conflict that reopened ethnic faultlines.
Numerous rounds of negotiations have failed to end hostilities that have killed over 10,000 people and displaced more than 2 million, with both sides locked in a bitter war of attrition despite signing ceasefire deals.
Last month, IGAD – the East African bloc mediating the talks – handed both sides what it called a compromise deal on power-sharing and other contentious issues, proposing a three-year interim period as a solution to the conflict while setting Aug. 17 as the deadline to end the drawn-out talks.
Leaders from six East African nations are expected to be joined by representatives of the African Union, the European Union, the United Nations, the United States, Britain, China and Norway in Addis Adaba at the planned signing ceremony on Monday.
But a split within the rebels' ranks and sharp disagreements over the power-sharing formula proposed by IGAD threaten to curtail chances of a deal being struck by the proposed deadline.
"Instead of committing ourselves into dates and trying to impose an agreement which is not yet accepted and owned by the parties, then I would advise that in case the parties do not agree, give them the chance to continue negotiating," South Sudan Information Minister Michael Makuei told a news conference.
The talks suffered another setback this week after a rebel general split with Machar and rejected any possible peace deal between the two.
Peter Gatdet, a leading field commander, said both Machar and Kiir should be barred from the transitional government and wait to compete in the next election.
Under IGAD's proposal, the rebels would be allocated a first vice president and the government the presidency, while an 18-month period would be set to integrate both armies.
It also suggests the demilitarisation of the capital Juba – a call Kiir's government has rejected. The rebels are seeking an extension to other regional capitals.
The main bone of contention is its proposal to hand the rebels' the lion's share of power in the flashpoint Unity, Upper Nile and Jonglei regions.
However, Machar announced on Friday that IGAD leaders had decided to scrap that arrangement in favour of the government, in a meeting held last week in Kampala.
"On the contrary, it will exacerbate and escalate the war," Machar said in a statement.
IGAD officials were not immediately available for comment.
An East African diplomat close to the talks confirmed that the arrangement was discussed, but said no decisions were made.
In late July, U.S. President Barack Obama said South Sudan's warring factions faced more international pressure if they did not reach an agreement by IGAD's deadline.