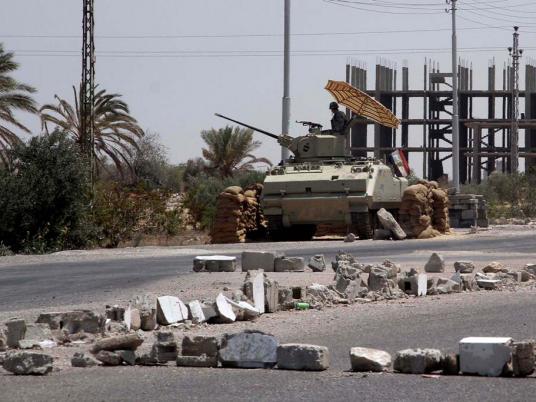 The South Sinai Security Directorate tightened security measures late Sunday at the governorate's entrances and exits, from Oyoun Moussa in Ras Sudr to northern Taba.
Sinai security deteriorated after unknown attackers killed three policemen in North Sinai Saturday.
The South Sinai directorate raised the number of troops and checkpoints for 850 kilometers along the international road. Authorities have also agreed with Bedouin tribal leaders to secure the mountainous areas and provide information about suspicious people who attempt to cross the area to the governorate.
North Sinai police had withdrawn and blocked vital roads to protest the killings. Some police officers held President Mohamed Morsy responsible for leaving them without protection in face of recurring assaults against police.
An official South Sinai source told state news agency MENA that IDs of people arriving in the governorate are being checked. South Sinai Governor Khaled Fouda said the security situation has stabilized, denying reports about terrorists infiltrating the governorate.
The governor pointed to an increasing tourist turnover in South Sinai, adding that hotel occupancy rates increased to 80 percent this week.
Edited translation from MENA