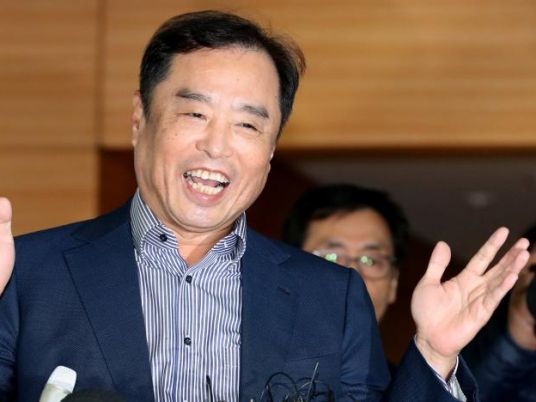 South Korea's presidential office on Wednesday named a new prime minister and finance minister, the highest-level shake-up since President Park Geun-hye's administration was rocked by a scandal involving a friend accused of meddling in state affairs.
But opposition parties denounced the reshuffle as a bid by Park to divert attention from the political crisis, which has dragged her approval rating to an all-time low.
The Blue House named Financial Services Commission Chairman Yim Jong-yong as finance minister and deputy prime minister. Yim, who replaces incumbent minister Yoo Il-ho, has been well-regarded by policy-makers and market participants in his current role.
Kim Byong-joon, a senior presidential secretary during former president Roh Moo-hyun's administration, is expected to replace Hwang Kyo-ahn as prime minister. The prime minister's role in South Korea is largely administrative and requires parliamentary approval.
Kim initially scheduled a news conference but later called it off, saying he would speak further on Thursday.
"This situation is moving pretty quickly and I will voice my thoughts tomorrow after having listened to those around me," Kim told reporters, declining to comment further.
Appointing Kim, who has a reputation as a liberal, appears to be a bid by the conservative Park to placate the opposition and soothe public anger over the scandal involving Park's friend, Choi Soon-sil, who is in custody and under investigation by prosecutors.
But the shake-up, which included a new minister of public safety and security, did little to please the opposition.
"This replacement of the prime minister and finance minister can't be happening without discussing it with the opposition," Park Jie-won, leader of the opposition People's Party, told a party meeting.
"We won't stand by such a move to turn around the current situation with the personnel change," said Park, adding that his party would boycott nomination hearings.
South Korean stocks and the won currency did not react to the cabinet changes.
Neither incumbent Yoo or Hwang have been implicated in the scandal, although Yoo had been under pressure from opposition lawmakers over his close relationship with Park.
"The Blue House named Kim as the right person to lead the cabinet for the country's future and to overcome current hardships," presidential spokesman Jung Youn-kuk said.
Resignation calls
A growing number of opposition politicians, as well as many members of the public have called on Park to step down, although the opposition has not called for impeachment proceedings.
Despite numerous scandals over the years, no South Korean president has ever resigned or been successfully impeached.
If Park, 64, were to step down before the end of her five-year term, an election would be held in 60 days, with the winner serving five years, making for a high-stakes race for which neither of the main parties has prepared.
Park apologized on television last week for giving Choi access to draft speeches during the first months of her presidency, but that did little to deflect demands that Park reveal the full nature of her ties with Choi and whether she enjoyed favors because of her friendship with the president.
Choi, 60, arrived at the prosecutors' office on Wednesday morning in handcuffs for a third day of questioning.
Prosecutors asked a court for a warrant to arrest Choi after charging her with abuse of power and attempted fraud, a court official said.
Prosecutors have said they are looking into allegations Choi forced conglomerates to donate funds to non-profit foundations using her friendship with the president and whether she benefited financially through the foundations.
Choi told South Korea's Segye Ilbo newspaper last week that she received drafts of Park's speeches after Park's election victory but denied she had access to other official material, influenced state affairs or benefited financially.