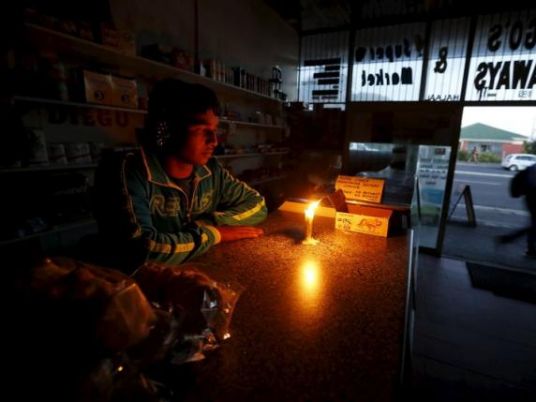 Facing a long, cold southern hemisphere winter of power cuts, many South Africans are choosing to cope with their frustrations by seeing the lighter side of life in the dark.
Africa's most advanced economy is in the throes of its worst electricity crisis since 2008, with residents subjected to frequent blackouts as state power utility Eskom battles to avoid total grid shut down.
Electricity outages are expected to last until 2017 and the government says the knock-on effects could cut 1 percent from economic growth this year.
A wave of crisis-related jokes have sprung up on social media and the stand-up comedy circuit, exemplifying South Africans' ability to use humor to cope with adversity.
"Eskom is the only business that pleads with you not to use their product," one comedian observed. Social media users have latched onto handles like #eishkom. 'Eish' is a widely used exclamation of resigned indignation in South Africa.
"What did South Africa use before candles? Electricity," goes another joke.
The power crisis has also been called the "50 shades of darkness", in reference to the erotic Hollywood movie "50 Shades of Grey", as some people joke that having the lights off sparks romance.
"Wonder how many babies will there be next year?" was one comment on a Facebookpage set up to share jokes about electricity shortages.
Some companies are tapping into the public's ability to see the funny side with light-hearted promotions.
"Blackouts? We'll introduce you to switched on candidates," reads a billboard mounted by one recruitment agency.
Restaurant chain Nando's has been poking fun at blackouts since the last crisis in 2008.
"When the lights go out, you can still enjoy a saucy night in," was one tagline used beneath a billboard image of the chicken chain's spicy marinade.
Insurer Santam's television commercial features foreigners telling their bemused friends about the experiences they had on holiday in South Africa, including 'load shedding', the term used by Eskom for power cuts. "Sometimes they just switch the power off. They even have a name for it: 'load shedding'," a series of travelers explain to seemingly shocked friends. An amused American woman responds with a joke about weight loss: "I could shed a little load."