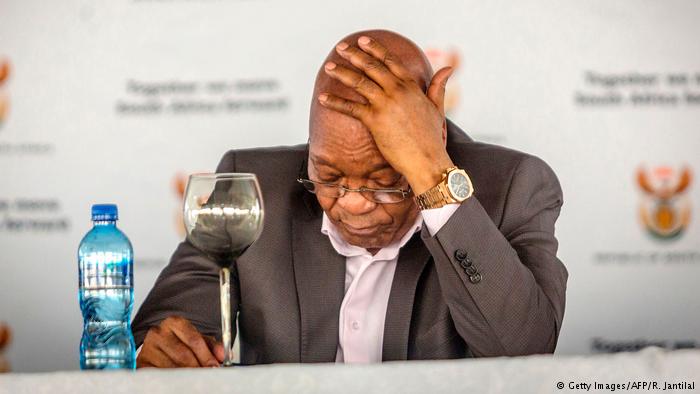 South African President Jacob Zuma has said he was "compelled to resign" as a result of the vote of no-confidence tabled by the ANC. He said he would step down with "immediate effect."
South Africa's Jacob Zuma said on Wednesday he would heed the orders of the African National Congress (ANC) party by resigning as president, following weeks of speculation about his future.
"I have been compelled to resign as a result of a vote of no-confidence set down by the ANC," Zuma said during a 30-minute farewell speech.
"Even though I disagree with the decision of the leadership of my organization, I have always been a disciplined member of the ANC," he said. Zuma also angrily pointed out that the party had presented no evidence of wrongdoing, nor followed the proper constitutional procedure in forcing his ouster.
The ANC had given Zuma a deadline of midnight on Wednesday to resign or face the vote of no-confidence. After he failed to resign during the day, the ANC announced that it would back a motion tabled by the opposition to force him from office.
Zuma subsequently began speaking at 11 p.m. local time in Pretoria. He said he would "resign with immediate effect," bringing to an end nine scandal-plagued years in office.
ANC Deputy President Cyril Ramaphosa, who replaced Zuma as party leader in December, is expected to be voted in by lawmakers as South Africa's new president on Thursday or Friday.
Despite pushing for Zuma's ouster for weeks, ANC senior party official Jesse Duarte insisted after the resignation that "we are not celebrating."
"We have had to recall a cadre of the movement that has served this organisation for over 60 years; it's not a small matter," she said.
Zuma joined the ANC in 1959 with which he fought for decades against South Africa's apartheid white-minority rule.
'A learning experience'
Zuma said he was grateful to the ANC that, in the creation of a non-racial South Africa, it had deployed him at the pinnacle of its role in government. "It has indeed been a great learning experience," he said. "It has been a mammoth task."
Zuma admitted he had not been the "epitome of perfection."
He said there had been speculation about how he should exit the office of presidency. Zuma referred at length to a discussion over "perks and benefits" after exiting political office.
He said he did not he fear a motion of no-confidence or impeachment, saying he had served the people of South Africa to the best of his ability.
Scandal-plagued presidency
Zuma's resignation ends a tumultuous presidency marred by scandals, allegations of corruptions and multiples street protests against his rule.
Most recently, he has come under fire for his alleged links to the wealthy Gupta family, who are believed to have used their friendship to influence government policy.
On Wednesday morning, South African police raided a Gupta family residence in Johannesburg. Authorities did not disclose the identities of the three detainees, although South Africa's state broadcaster, SABC, said a Gupta family member was among those detained.
Zuma leaves South Africa in a perpetual cycle of low economic growth, heavy debt and record-high unemployment. Upon his resignation, the South African rand rose by over 1 percent to a two-and-a-half-year high of 11.8 against the dollar.
"Zuma built a deep system of corruption that has penetrated every part of the government and the criminal prosecution system," Mmusi Maimane, the leader of the opposition Democratic Alliance (DA) party, said. "Now the country looks to Cyril Ramaphosa to save us from a man that he and the ANC protected and supported. We must never allow this to happen again."
The DA is calling for parliament to be dissolved so that early elections can be held.