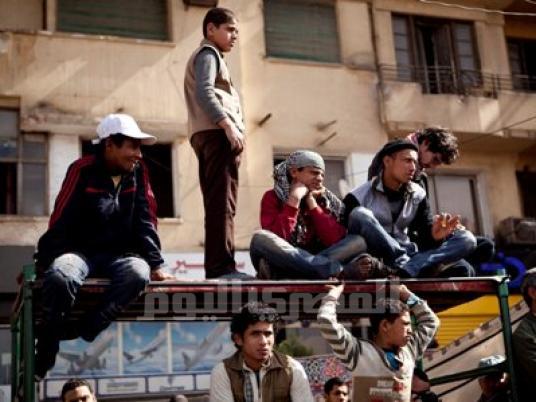 Sources close to President Mohamed Morsy said Wednesday that he is seeking a political truce with revolutionary forces.
According to the sources, who spoke on condition of anonymity, he has tasked advisor Emad Abdel Ghafour to seek out these groups and ask them to end weekly protests and demonstrations.
In return, Morsy would accede to some of their demands, which include a national coalition government and a committee to oversee the integrity of upcoming parliamentary polls.
The sources said the initiative is being presented to revolutionary youths groups for their approval in the hopes of curbing calls for
the government's downfall and
early presidential elections.
Morsy's terms are outlined in a document with 13 clauses. They include that the coalition government would be formed proportionately based on the number of seats each party wins in the House of Representative elections.
The document also says the elections integrity committee would comprise members of numerous political parties and civil society organizations.
Furthermore, the president promises to identify and incorporate Egypt's economic identity in the Constitution, prioritize investment and allocate government spending for social justice.
But groups are skeptical that the offer is legitimate.
"The document is an attempt to pull the youth away from the opposition forces that are led by the National Salvation Front," said Mohamed Atteya of the Revolutionary Bloc. "We are aware of the president's ulterior motives."
In related news, sources within the Muslim Brotherhood said the group's leadership largely supports a Cabinet reshuffle.
The national dialogue under the auspices of Morsy did little to end the nation's crippling political deadlock or the opposition's ire toward the government. The National Salvation Front said it would only participate in the talks if Morsy agrees to a new Cabinet and fair polls.
Meanwhile, the Salafi Nour Party has accused the president's office of ignoring its initiative to form a new government, which it championed during the latest round of national talks.
However, Cabinet spokesman Alaa el-Hadidi said during a press conference on Wednesday that the government has no intention to change or reshuffle ministers now.
Edited translation from Al-Masry Al-Youm