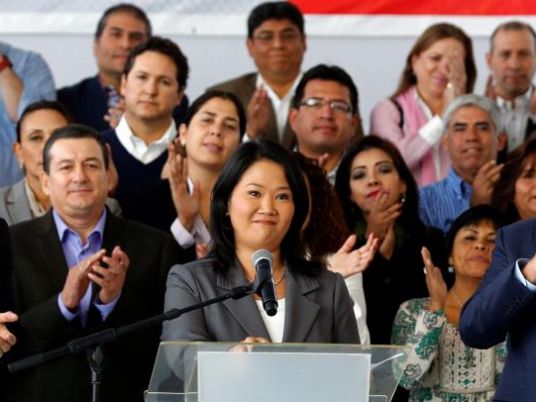 Keiko Fujimori conceded defeat on Friday to Pedro Pablo Kuczynski in Peru's tightest presidential election in decades, but she warned that her rightwing populist party would be a force of opposition during his term.
Fujimori, the 41-year-old daughter of Peru's jailed ex-authoritarian President Alberto Fujimori, said the centrist former investment banker Kuczynski had only scraped together a narrow victory with the support of "promoters of hate."
"We wish much luck to Mr. Kuczynski and his campaign friends who will accordingly be his allies in government," Fujimori said, flanked by the dozens of incoming lawmakers who will give her Popular Force party a solid majority in the next Congress.
"The people have tasked Popular Force with being the opposition," Fujimori said. "Rest assured, we will not fail."
Fujimori has not yet congratulated Kuczynski in person after the election as per Peruvian tradition.
The speech, Fujimori's first since Sunday's election after a vote-count dragged on for days, laid bare the hostilities that could block Kuczynski's proposals to lower sales taxes and give rebates to companies that reinvest their profits.
"The first thing we must do is to create an environment in which we can turn the page," Kuczynski, a 77-year-old former prime minister and World Bank economist, said later on local broadcaster RPP.
Fujimori had been the favorite to win the election just two weeks ago, but Kuczynski made a late surge after picking up an endorsement from a leftist rival and stepping up attacks as Fujimori was stung by scandals involving her close advisers.
Kuczynski's thin margin of victory — just tens of thousands of votes — and his party's small presence in Congress give him one of the weakest mandates of any recent president in the conflict-prone copper and gold producer.
It was the second straight loss for Fujimori in a run-off presidential election that many saw as a referendum on the controversial legacy of her father.
Alberto Fujimori is now serving a 25-year sentence for graft and human rights abuses during his 1990-2000 government, but many Peruvians credit him with quashing a leftist insurgency and ending years of hyperinflation and recession.
Kuczynski endorsed Fujimori when she ran against President Ollanta Humala in 2011 before he became the unlikely leader of the country's fierce anti-Fujimori movement when he emerged as her run-off rival in April.
Kuczynski will take office July 28.