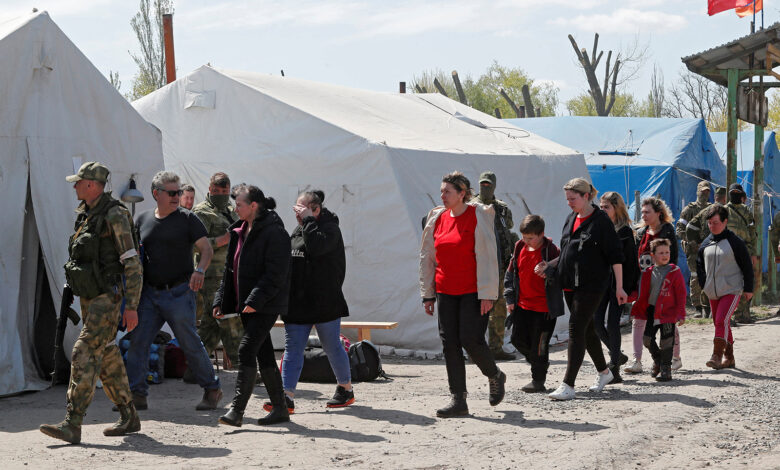 Ukrainian President Volodymyr Zelensky said on Sunday about 100 civilians had been evacuated from the Azovstal steel plant, the last Ukrainian holdout in the besieged city of Mariupol, following weeks of heavy Russian bombardment.
Here's what we know about the situation:
Hundreds of people — dozens of whom are injured — are thought to still be trapped inside the complex. They include civilians and Ukrainian forces who are running out of water, food and medicine after two months.
After a rare period of quiet on Sunday that allowed for some evacuations, the complex came under fire again Sunday night, according to a Ukrainian soldier in Mariupol who spoke to Ukrainian television.
It's unclear whether the renewed shelling will jeopardize the next stage of the evacuation from Azovstal, due on Monday.
Nearly every building at the plant has been destroyed, new satellite images showed Saturday.
The UN and the International Committee of the Red Cross are coordinating the safe passage efforts.
The UN's Office for the Coordination of Humanitarian Affairs (OCHA) said the operation began on Friday alongside a joint UN/ICRC convoy traveling from Zaporizhzhia and reached the steel plant in Mariupol on Saturday morning.
UN OCHA said women, children and the elderly were being evacuated to Zaporizhzhia where they will receive humanitarian and psychological support.
Zelensky said the first evacuees will arrive in Zaporizhzhia on Monday morning where the Ukrainian government will meet them.
He added the Ukrainian government will continue to evacuate people from Mariupol on Monday, starting approximately around 8 a.m. local time.
The Russian news agency TASS, citing the Ministry of Defense in Moscow, reported that 80 civilians were rescued from the "territory" of the Azovstal plant and evacuated to a Russian-controlled compound a few miles away.
It's unclear whether any of them came from within the plant itself.