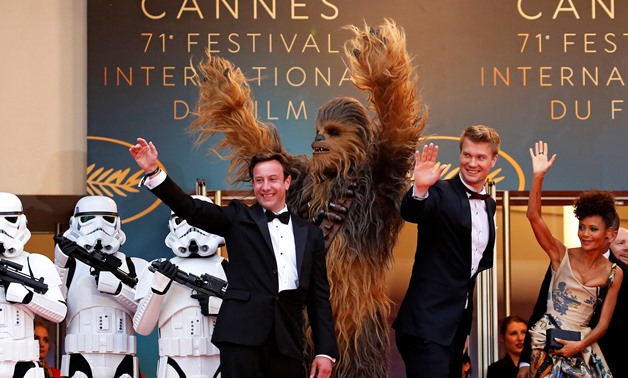 "Solo: A Star Wars Story" continues to falter at the box office.
Disney and Lucasfilm's latest brought in $29.3 million from 4,381 locations over the three-day period. With a 65 percent decline from its $84 million three-day launch, "Solo's" second weekend fell short of its predecessors. The first "Star Wars" anthology film, "Rogue One," made $64 million in its second weekend in 2016, while 2017's "The Last Jedi" earned $71 million in its sophomore weekend.
Its second-weekend total brings "Solo's" domestic tally to $149.5 million. "Solo" made $60 million this weekend, including $30.3 million overseas. Its cumulative total is now $264 million. The Han Solo origin story earned a disappointing $103 million in North America over its four-day holiday opening weekend and stalled out with $68.2 million overseas.
While that was enough to win "Solo" the weekend, the third frame of "Deadpool 2" didn't fall too far behind. The 20th Century Fox tentpole continued to fend off the competition, landing in second place with $23.8 million from 4,161 screens. To date, the Ryan Reynolds-led sequel has made $255 million in North America.
Meanwhile, "Adrift" was able to narrowly edge out "Avengers: Infinity War" for third place. STX's "Adrift," starring Shailene Woodley and Sam Claflin, anchored in $11.5 million when it expanded to 3,015 locations this weekend. The drama is currently averaging a 71 percent score on Rotten Tomatoes, as well as a B CinemaScore.
"Infinity War" secured $10.5 million from 3,570 screens during its sixth outing, bringing its domestic tally up to $643 million. Internationally, the Marvel and Disney film brought in another $24.3 million this weekend. That brings its worldwide tally up to $1.96 billion, making it the fourth biggest release of all time.
"Book Club" rounded out the top five, earning $6.6 million from 3,169 screens during its third weekend. Paramount Pictures' comedy starring Diane Keaton, Jane Fonda, Candice Bergen, and Mary Steenburgen has made $47 million at the North American box office.
BH Tilt's "Upgrade" debuted on par with estimates. The R-rated thriller bowed with $4.5 million on 1,457 screens. It currently boasts an 85 percent critics score on Rotten Tomatoes, along with a 91 percent audience rating.
The final wide release of the weekend was Johnny Knoxville's "Action Point," which landed with $2.2 million in 2,032 locations. The comedy is not faring well critically either, holding a 17 percent Rotten Tomatoes average and C+ CinemaScore.
In 10th place, MGM and Lionsgate-Pantelion's "Overboard" notched $2 million at 1,228 locations. With $45.5 million in five weeks, the Eugenio Derbez and Anna Faris-starrer is now Pantelion's highest grossing film to date, surpassing 2013's "Instructions Not Included."
At the specialty box office, "RBG" — the documentary centered on Supreme Court Justice Ruth Bader Ginsberg — had another strong weekend with a haul of $1.1 million in 432 locations. With its domestic tally at $7.8 million, "RBG" surpassed "I Am Not Your Negro" ($7.1 million) to become Magnolia's highest grossing film.
Elsewhere, MoviePass co-opened its first feature with Orchard. Bart Layton's "American Animals" premiered with $140,633 on just four locations for a strong per screen average of $35,158.
The year-to-date box office is up 6.2 percent, crossing $5 billion in 2018, according to comScore. The same weekend last year, "Wonder Woman" launched with $103 million and went on to become the top grossing film of the summer at the domestic box office. Due partially to a number of holdovers, the weekend to date box office is down 43.3 percent.
"This dip in box office slows the momentum for the industry, but the good news is that a host of big titles are on the way to help erase the memory of this gloomy June box office frame," said Paul Dergarabedian, a senior analyst at comScore.