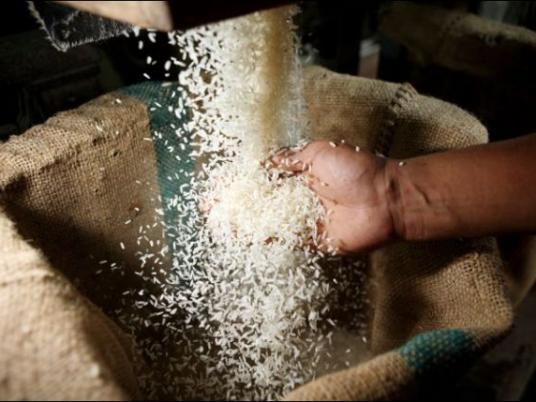 Members of the Egyptian chambers of commerce announced that the soaring prices of several commodities in the Egyptian market is about to end.
They explained that there has been a breakthrough and basic commodities, including rice, will be offered in large quantities at reduced prices, with an increase in the supply of basic commodities in new consumer complexes.
Speaking to Al-Masry Al-Youm, they said that the sugar crisis has also ended and the commodity will be provided at reduced prices, after the Supply and Internal Trade Ministry imported 150,000 tons of sugar.
They noted that the government began offering encouraging initiatives and incentives for farmers to grow rice.
The head of the Foodstuffs, Grocery and Spices Division at the Alexandria Chamber of Commerce Hazem al-Menoufy, said that the chambers worked to resolve this dilemma by offering larger quantities in markets and consumer complexes at reduced prices.
He added that the government also intervened strongly to control rice prices, and confront manipulators, preventing them from storing rice and withholding it from citizens to dry the market and reduce its supply – thereby justifying them raising its prices unjustly.
Government incentives
Menoufy added that the government has begun offering encouraging incentives for farmers to grow rice, and to hand over their stocks to the government to re-offer it in a way that restores balance in the market.
He explained that the state's reserves of rice stocks are sufficient for a period of four months.
The markets will witness a greater breakthrough, starting next week, with farmers supplying the crop after the period granted to them by the Minister of Supply which will end on Sunday.
The head of the division pointed out that the government has worked to introduce new permanent consumer complexes until the crisis of high prices is overcome and markets are controlled.
Amember of the Foodstuffs Division at the Cairo Chamber of Commerce Fatima Abdel-Maqsoud, said that the chambers of commerce worked to solve the rice crisis and some food commodities by offering consumer complexes large quantities of rice including al-Ahram Company, and Masreya Company, at a price of LE 10.5 per kilo to consumers.
Food commodity exhibitions will continue until the consumer price crisis is overcome and markets are controlled, she added, stressing that the severity of the crisis has decreased by 60-70 percent.
"There are some basic commodities such as beans and lentils that are still witnessing a crisis in supply because they are not fully available and Egypt is working to import from abroad, and the government and merchants are working to provide them during the coming days so that their prices are according to their supply," she explained.
Rice and sugar
And the head of the Sugar Division in the Chamber of Food Industries in the Federation of Industries, Hassan al-Fandi, said that the Supply Ministry intervened and imported 150,000 tons of sugar, and this will lead to a 30 percent drop in prices to reach the consumer at LE12 per kilo.
Former Supply and Internal Trade Minister Gouda Abdel-Khalek noted that Egypt production of rice amounts to five million tons annually, while the Egyptians consume about four million tons, and there is a surplus of about one million tons.
He added that there is a decision to prevent the export of rice, and self-sufficiency is supposed to happen, and yet despite that, there is smuggling of rice on a large scale.
Abdel-Khalek explained that each acre of rice produces about four tons, and some lands produce more or less, and the Egyptian government is now working on obligating farmers to supply a ton of rice per acre to control the markets.
Edited translation from Al-Masry al-Youm