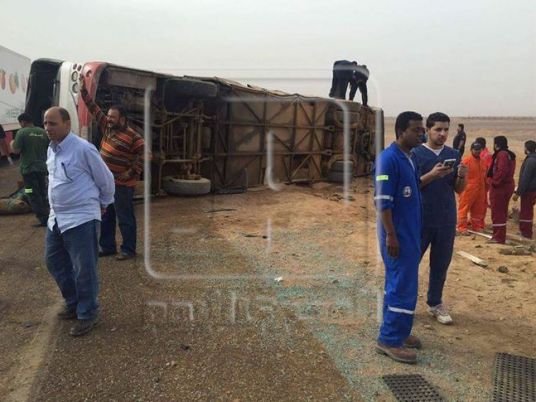 Six people were killed and 15 others injured on Sunday after a truck trailer collided against a bus transporting factory workers at the Dry Port in Port Said, the Egyptian Health Ministry said in a statement.
The statement said that immediately after the accident, Health Minister Hala Zayed commissioned the Undersecretary of the Health Ministry in Port Said to follow the injured and provide immediate medical care.
Spokesman for the Health Ministry Khaled Megahid said that 12 ambulances rushed to the scene and transferred victims to the Port Said General Hospital.
He pointed out that the injuries ranged from post-concussion, fractures, abrasions, bruises and scratches to various parts of the body, and that the injured are all receiving treatment.
This is the first official clarification issued by the Health Ministry on the accident, as the preliminary information on the incident reported the death of 8 people and injuring of 22 others.
Egypt loses about 12,000 lives due to road traffic crashes every year.
It has a road traffic fatality rate of 42 deaths per 100,000 people, according to the World Health Organization (WHO). The majority (48 percent) of those killed are passengers of four-wheelers, though pedestrians also constitute a significant proportion (20 percent) of these fatalities.
According to a Central Agency for Public Mobilization and Statistics (CAPMAS) report on 2016 accidents, the highest cause of accidents was human factor at 72.0 percent, followed by defects in vehicles (technical condition of the car) at 18.2 percent, and the environmental component (road condition) at 3.1 percent.
Edited translation from Al-Masry Al-Youm