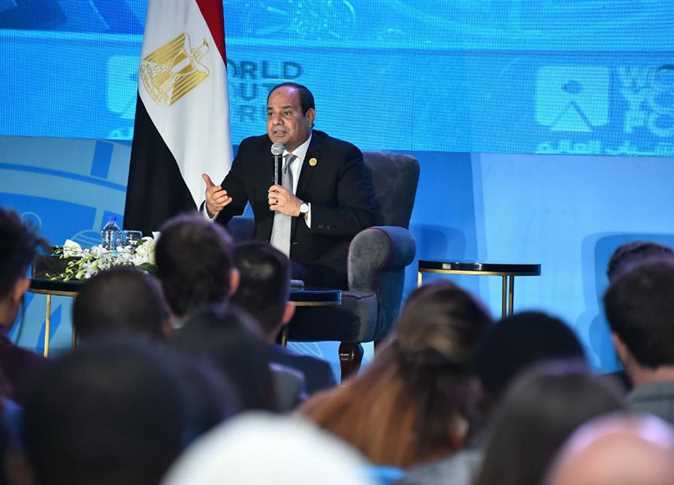 Egyptian President Abdel Fattah al-Sisi said during the session "International Peace and Security: Current Challenges", on the first day of the World Youth Forum (WYF) on Sunday, that the forum's goal is to exchange viewpoints regarding terrorism, which he calls a "diabolical industry".
Sisi urged everyone to support countries facing terrorism, and to take a decisive position against all pro-terrorism countries funding it.
Terrorism is reused through new ways, Sisi said, referring to Egypt as an example as to how terrorism is utilized to impact the tourism sector and destabilize the country, with financial losses from the instability of the tourism sector estimated at US$15 billion.
Sisi pointed out that Egypt is not a rich or industrialized country, but rather a state with limited resources, and so is under threat from a massive crisis if terrorist operations are launched nationwide.
Terrorism is the curtain for the political goals of several countries, he said, with the most dangerous forms of terrorism utilizing beliefs and ideology to achieve its political interests.
He stressed the necessity of fully understanding terrorism's goals, and warned that as long as pro-terrorist countries see potential within terrorism they will devise methods to utilize and support it.
The president said that "The phenomenon of terrorism is growing and does not decrease, and Europe will suffer greatly from terrorist elements returning after the end of their mission in Syria, and we are seeing this now," stressing that Europe faces an issue with its laws that allows tourists to penetrate into its countries.
He further warned of terrorism's spread in Africa and globally, as it will bring harm to people all over. Terrorism is also taking root within Africa's Sahel and Sahara countries, Sisi said, and he called for other nations to help them as their capabilities alone will not be enough to eliminate this problem.
The UN must develop its mechanisms to face global issues and challenges while keeping up with global human development, Sisi said.
Edited translation from Al-Masry Al-Youm
Al-Masry Al-Youm
December 15, 2019