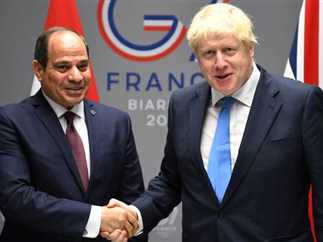 President Abdel Fattah al-Sisi received on Thursday evening a phone call from British Prime Minister Boris Johnson, in which the two leaders discussed the latest developments of the Grand Egyptian Renaissance Dam (GERD) crisis.
Sisi reaffirmed the issue's paramount importance in terms of national security, saying the country seeks to maintain its water rights by reaching a binding legal agreement that defines clear rules for filling and operating the dam.
Sisi's spokesperson stated that the call included a discussion on all issues of bilateral cooperation between the two countries, as well as a discussion on strengthening relations in all fields, especially economic investment, security, education, health, and energy.
The Egyptian president stated his desire to continue mutual cooperation between the two countries in various fields in a manner that reflects the weight and importance of the two countries in achieving peace and stability in the region.
The two also discussed a number of regional issues, the foremost being the situation in Libya. Prime Minister Johnson expressed deep appreciation for the essential role that Egypt has played in the Libyan crisis and its efforts restoring state institutions.
Johson expressed his keenness to continue communication with Sisi to enhance consultation and coordination on various regional and international issues, recognizing the large role Egypt plays in maintaining peace and security in the Middle East and Africa.
Edited translation from Al-Masry Al-Youm