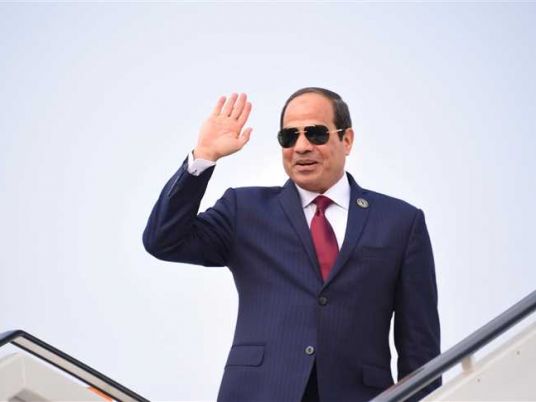 The alliance with Gulf countries to isolate Qatar has given a significant boost to Egyptian President Abdel-Fattah al-Sisi, who over the past three years has been trying to find backers in what he calls a "comprehensive" war on militancy.
Sisi's administration and pro-government media have relentlessly denounced Qatar — a top backer of Sisi's nemesis, the Muslim Brotherhood — depicting it as fueling militancy around the region. Now Cairo has the support of Saudi Arabia, the United Arab Emirates and Bahrain, which along with Egypt cut ties with Qatar this week.
Just two weeks earlier, Sisi delivered his vision of a war against terror in an address to an Islamic summit in Saudi Arabia attended by US President Donald Trump. His speech was peppered with thinly veiled references to Qatar.
"Terrorists are not just those who carry arms," said Sisi. "Regrettably, there are nations that have been involved in supporting and financing terrorist groups and providing them with safe havens."
At the root of Egypt's dispute with Qatar is Doha's support of the Brotherhood. As defense minister, Sisi led the military's 2013 ouster of Islamist Mohammed Morsi, removing the Brotherhood from power in Egypt. Since then, Egypt has waged a ferocious crackdown on the group, all but breaking it and driving into exile any prominent members who have not been arrested.
Egypt has also been fighting a bloody Islamic militant insurgency in the northern part of the Sinai Peninsula, which grew more potent after Morsi's ouster. Egyptian officials accuse the Brotherhood of joining the militant campaign and Qatar of supporting terrorism — claims that the Brotherhood and Doha deny.
The militants, led by a local affiliate of the Islamic State group, have expanded their fight to Egypt's heartland with a series of deadly attacks against Christians that have killed more than 100 since December. Sisi has since toughened his campaign, calling for action against countries that back militants. He sent warplanes to bomb militant positions in Libya and vowed to attack militant bases linked to extremists who wage attacks in Egypt wherever they may be.
Here's a look at how the confrontation with Qatar plays out with Egypt:
Egypt's Gains
The joint action against Qatar potentially boosts the Egyptian government's campaign against its biggest nemesis, the Brotherhood.
It adds punch to Cairo's constant complaints against the Al Jazeera TV network, which Egyptian officials accuse of backing the Brotherhood and other Islamists and of sowing divisions in Egypt.
Qatar is unlikely to hand over to Egypt wanted Brotherhood leaders who have found refuge in Doha, but they are likely to come under pressure to leave.
The anti-Qatar alliance also solidifies Egypt's place as a reliable supporter of oil-rich Saudi Arabia and UAE, repairing at least for now a relationship with Riyadh that had soured because of differences over Syria and Yemen.
That could revive the Gulf's interest in keeping Egypt's economy moving. Sisi has introduced a series of ambitious reforms to salvage Egypt's deeply damaged economy, but revival is still far off. Saudi Arabia and the UAE have poured billions of dollars into Egypt, but lower oil prices and the tensions slowed the flow of money.
"To a large extent, there has been a constant desire by the Egyptian government to please the Saudis," said Egyptian analyst Mustafa Kamel el-Sayed. "We are now looking at some sort of a new Egyptian-Saudi alliance that has replaced the tension of the past few months."
"It's an alliance that will cause problems for Egyptian foreign policy," he said, referring to the possibility that it would prevent Egypt from pursuing its own interests.
The fate of two Red Sea islands Egypt agreed to transfer to the Saudis last year may continue to bedevil relations.
An Egyptian court ruled against the handover. But there are hints in the pro-government media that parliament, packed with Sisi supporters, will vote to go through with it anyway. That will likely spark new legal challenges and perhaps even new street protests.
The Downside
By joining this new, anti-Qatar alliance, Egypt may have relinquished any remaining pretense to being the Arab world's dominant nation, ceding the mantle to Saudi Arabia.
Though it complained for years about Qatar, Egypt only moved seriously against it when Saudi Arabia took the lead.
The most populous Arab nation, with 93 million people, Egypt has long portrayed itself as the region's leader. But whatever claim it had has been undermined by political and economic turmoil since the 2011 uprising that toppled longtime ruler Hosni Mubarak.
The feud could have more palpable fallout. Though it's shown no sign of doing so yet, Qatar could expel some or all of the more than 200,000 Egyptians living and working in the country. That would cost Egypt millions in lost remittances, exacerbating economic problems.
Relations with Iran
Egypt has so far resisted the temptation to join Saudi Arabia, the UAE and Bahrain in their near obsessive opposition to Iran. It has steered clear from the kind of sharp anti-Shiite rhetoric commonly used in Saudi Arabia, which has a significant Shiite minority, and Bahrain, where a Sunni dynasty rules over a Shiite majority.
Egypt has quietly maintained channels of communication with Tehran and even some of its allies, like Hezbollah in Lebanon and the Houthi rebels in Yemen. It has also built relations with the Shiite-led government in Iraq. Sisi has expressed alarm over Tehran's growing influence in Iraq, Syria and Yemen, but never mentions Iran by name.
"Given the choice between backing Saudi or backing Iran, Cairo would seem to back Saudi Arabia, but it's still reluctant to create an enemy of Iran," said H.A. Hellyer, senior non-resident fellow at the Atlantic Council.
The alliance against Qatar could change that.
"Egyptian national security considerations are basically linked to the Arab-Israeli conflict. Replacing Israel with Iran cannot be a victory for Egyptian policies," said another prominent analyst, Ayman al-Sayyad. "Iran is a tyrannical nation but I cannot honestly say it poses a threat to Egypt's national security."