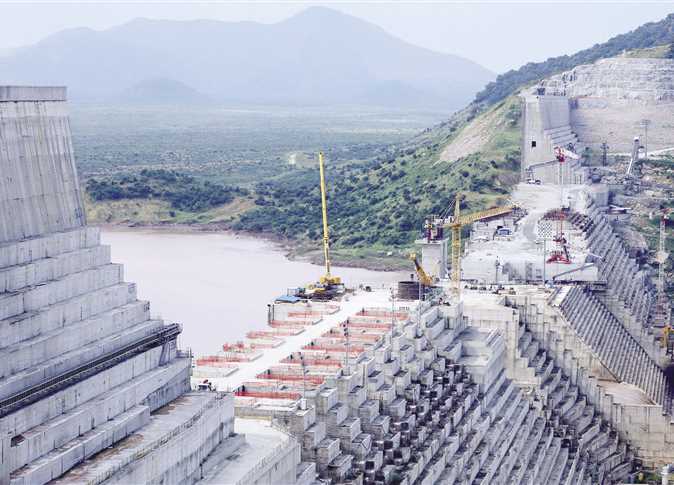 Egyptian President Abdel al-Fattah al-Sisi said Saturday that his country seeks the success of negotiations regarding the Grand Ethiopian Renaissance Dam (GERD) and aims to balance interests between Egypt, Ethiopia and Sudan.
The remarks came during a meeting with the special envoy to the Ethiopian Prime Minister Hailemariam Desalegn. Sisi said that negotiations would open up a new horizon of development and cooperation between Egypt and Ethiopia.
Egypt's foreign policy is based upon mutual respect, non-intervention in other countries' domestic affairs and cooperation between people, Sisi stressed.
He called for promoting different partnership aspects between both countries.
From Ethiopia's side, Desalegn said his country wishes to develop relations with Egypt and enhance mutual cooperation to achieve stability in Africa and the Middle East – giving particular praise to Egypt's 2019 presidency of the African Union.
Egypt, Ethiopia and Sudan held the latest round of talks on the GERD in Washington in January under the auspices of the United States and the World Bank.
The three countries reached a draft deal on filling the GERD reservoir.
Egypt said the Washington meeting indicated foundations consistent with Egypt's proposals regarding the rules for filling and operating the dam and resolving the disputes around it.
Egypt, which relies considerably on fresh water from the Nile, has voiced fears that the GERD would negatively impact the country's water supply since construction of the dam began on Ethiopia's Blue Nile in 2011.
Ethiopia, on the other hand, has reiterated the importance of the project to bolstering the economy in the country, where more than half of the population currently lives without access to electricity according to an AFP report.
Edited translation from Al-Masry Al-Youm