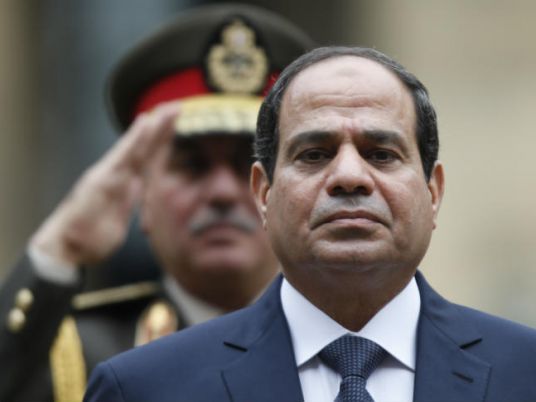 Britain and other NATO members involved in toppling Muammar Gaddafi must do more to help prevent the spread of Islamist extremism in Libya, Egyptian President Abdel Fattah al-Sisi told the Daily Telegraph newspaper ahead of a visit to London.
Britain took part in 2011 air strikes in Libya, which is now caught up in a conflict between two rival governments and their armed factions. That has left a security vacuum that has allowed Islamic State militants to gain ground — a fact that Sisi also used to defend his country's human-rights record.
"It was a mission that was not completely accomplished … Libya was left without the leadership when it needed our help most. Now we have the situation where the will of the Libyan people is being held hostage by militant groups," Sisi, who is due to begin a visit to Britain on Wednesday, told the paper.
"We need to stop the flow of funds and weapons and foreign fighters to the extremists. All the members of NATO, including Britain, who took part in the mission to overthrow Gaddafi need to give their help."
Sisi said more also needed to be done to tackle the spread of Islamic State militants in Iraq and Syria.
"The map of extremism and instability is expanding and not retreating. We need to reassess our priorities," he said.
In a separate interview with the BBC, Sisi defended his domestic human rights record, using the example of countries like Libya.
"Don't forget that we are plagued by terrorism along the 1000 km border with Libya, and Sinai and around Egypt," he said. "We need stability so the rest of Egyptian society can survive."
Human rights groups have accused Egyptian authorities of widespread violations since the army toppled the country's first democratically elected president, Islamist President Mohamed Mursi, after mass protests against his rule two years ago.
"No one is oppressed in Egypt, but we are living through incredible times, " Sisi said. "Egypt doesn't want to become like other countries in the region.
"What about the millions of Egyptians who face hardship every day? What about their human rights? What about the millions of young people who want a job and education? Our friends in the West know that we face monumental problems and if we work together we can find a solution."
A protest against Sisi's visit is due to take place outside Prime Minister David Cameron's Downing Street residence later on Wednesday. More than 50 British lawmakers signed a motion calling for the visit to be cancelled, saying the invitation sent a message that human rights abuses would be tolerated.
Cameron's spokeswoman has said "no issues will be off the table" when the pair meet on Thursday.