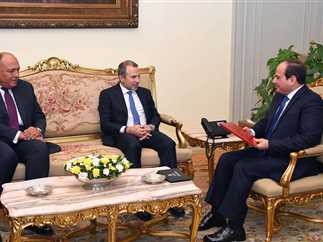 On Monday, President Abdel Fattah al-Sisi and Foreign Minister Sameh Shoukry received Lebanese Foreign Minister Gebran Bassil, alongside Lebanese ambassadors to Cairo.
Bassil handed Sisi a letter from Lebanese President Michel Aoun, which included an invitation for Sisi to participate in the Arab Economic Summit planned in Beirut in January, according to Presidency Spokesperson Bassam Rady.
The message also affirmed the Lebanese president's keenness to enhance its distinguished relations with Egypt in all fields, and to continue coordination on the various challenges presently facing the Arab world.
Bassil claimed that developments on the Lebanese political scene are moving positively, towards forming a national unity cabinet that "has the standards of justice, and proper representation of all segments of the Lebanese society, without excluding any party".
Sisi welcomed Bassil and extended his greetings to Aoun, Rady reported. He welcomed the invitation to attend the Arab Economic Summit in Beirut, and affirmed the special relations between both countries at the official and popular levels.
Sisi praised efforts to form a national unity government in Lebanon, hoping that these efforts would be crowned with success at the earliest opportunity, so as to enhance national unity and stability in Lebanon.
He stressed Egypt's continued support for "the brotherly Lebanese people", and their efforts to maintain coexistence among Lebanon's various spectrums.
The meeting touched on means to improve cooperation in the fields of energy, trade and investment, as well as regional issues of common concern, according to Rady.
Edited translation from Al-Masry Al-Youm.