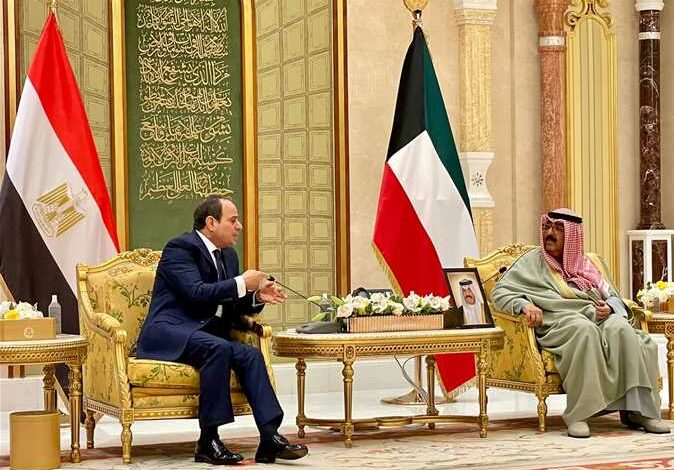 President Abdel Fattah al-Sisi received a Kuwaiti economic delegation, comprising the symbols of the business community of the State of Kuwait, on Sunday.
Sisi said at the beginning of the meeting: "Welcome to your country, Egypt, we are glad and honored to have you."
Sisi said, during the special meeting with the Kuwaiti business community, that Egypt and Kuwait enjoy very good relations whether at the grassroot or governmental levels, commenting: "We have a history, and this relation we are happy, honored and proud of," stressing that Egypt has several investment opportunities, as the government has made recent efforts to improve the investment climate.
In April, Egypt and Kuwait signed a grant agreement worth KD750,000 (US$2.5 million) to contribute to the preparation of technical, economic and environmental feasibility studies for a project to construct a railway between Egypt and Sudan.
The signed grant enhances the efforts made by the Egyptian government to support economic relations with the African countries to enhance development efforts within the framework of the 2063 Development Agenda.
Brotherly bonds
Egyptian President Abdel Fattah al-Sisi said in 2019 that the national security of Kuwait and the Gulf states is an integral part of Egypt's own national security.
The Emir of Kuwait Sheikh Sabah al-Ahmad al-Jaber al-Sabah at the time praised the sincerity and closeness of Egyptian-Kuwaiti relations.
He said that Egypt enjoys a special place for the Kuwaiti people. He praised Egypt's pivotal role in supporting the security and stability of Arab countries and their efforts to promote joint Arab action at all levels.
The Emir stressed Kuwait's aspiration to continue enhancing bilateral relations between the two countries, especially on economic and developmental levels.