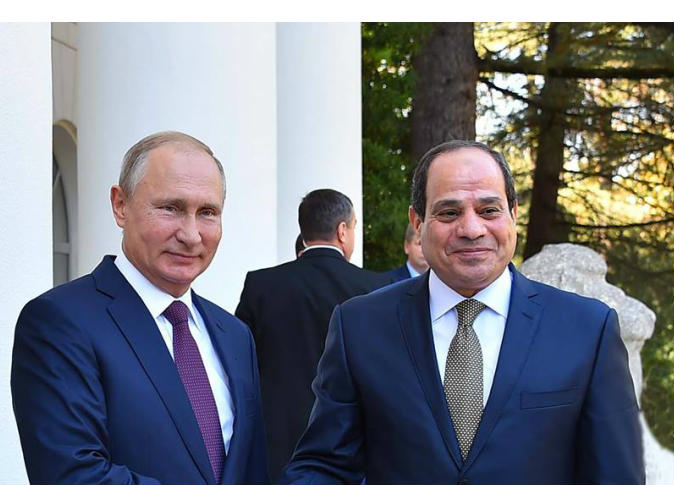 Egypt's President Abdel Fattah al-Sisi and Russia's President Vladimir Putin are set to co-host the "Russia and Africa: Uncovering the Potential for Cooperation" summit, held at Russia's Sochi from October 22-25.
Sisi and Putin will address the plenary session of the summit, which will discuss possible growth points in cooperation between Russia and African countries.
The summit's official website published a welcome speech by Sisi, as President of the African Union. He stressed that this summit is of great importance, as it is the first of its kind and comes in a time of major global and international change.
Sisi said that the summit aims at launching an integrated framework to push Russian-African relations to broader horizons of joint cooperation in various fields.
He also said that the summit reflects the historical ties of friendship between Africa and Russia.
African countries and Russia hold common positions in their international actions, he added, based on principles such as respect for international law, equality, non-interference in internal affairs of states, peaceful settlement of disputes, and a commitment to multilateral actions in accordance with a similar vision between the two sides on how to confront new international challenges.
Sisi noted that African countries have enormous potential and opportunities that will enable them to join the world's developing economic powers after optimization. Africa has made good progress in terms of its growth rates over the past decade, with the economy expanding by 3.55 percent in 2018.
The African Continental Free Trade Agreement which took effect at the African Union summit in Niger on July offers a range of new instruments for growth.
This success opens up broad prospects for cooperation between African countries and the Russian Federation, Sisi explained, and confirms the commitment of Africa's governments and peoples to cooperate with different partners in order to establish mutually beneficial relations.
He added that the Russia–Africa Summit will serve to establish constructive strategic relations based on cooperation between the two sides across various fields, helping to realize the hopes and dreams of the Africa and Russian peoples.
The Russia–Africa Summit is the first event of its kind in the history of Russian-African relations, to which the head of every African state and the leaders of major regional associations and organizations have been invited.
The summit's plenary sessions will look to discuss a wide range of issues on the international agenda and compare views on pressing issues of vital interest to Russia and Africa.
It will focus particular attention on actual and potential relations between Russia and the nations of Africa, the development of interactions in the political, economic, humanitarian, and cultural fields among others with an emphasis on finding ways to systematically accelerate and develop the entire range of Russian-African cooperation.
The summit will also witness an exchange of views on developing coordinated measures to counter terrorism, cross-border crime, and other threats to regional and global security.
Edited translation from Al-Masry Al-Youm