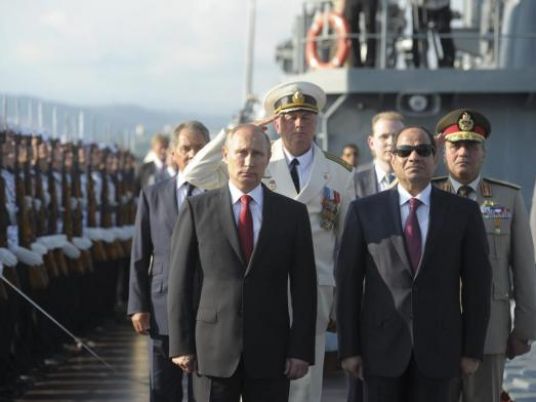 Egyptian President Abdel Fattah al-Sisi recently discussed the ongoing crisis in Libya with his Russian counterpart Vladimir Putin, with both leaders agreeing to intensify joint efforts to combat armed militias and "terrorist organizations" and put an end to what they called illegal foreign interference in Libyan affairs, according to Presidential Spokesperson Bassam Rady.
Reports have come in that Turkey is working to transport militia fighters from Syria to Libya to support the Government of National Accord (GNA) headed by Fayez al-Sarraj.
France, Russia, Egypt, Jordan, and the United Arab Emirates have supported Khalifa Haftar's self-styled Libyan National Army, which launched an offensive to capture Libya's capital Tripoli last spring. Turkey, Qatar, and Italy back the UN-supported Government of National Accord based in Tripoli and headed by Fayez al-Sarraj.
Sisi also stressed Egypt's keenness to strengthen Egyptian-Russian relations across various fields during his phone call with Putin, praising efforts made on joint development projects in Egypt, including the construction of the Dabaa Nuclear Power Plant and the Russian industrial zone at the Suez Canal axis.
In December, Putin and Sisi signed a contract to begin work on the Dabaa Nuclear Power Plant, with construction expected to begin in 2020, according to Alexei Likhachev, Chief Executive Officer of Russia's state nuclear corporation Rosatom.
The plant is expected to be completed by 2022. Russia will loan Egypt $25 billion to finance building and operating the plant, with Egypt paying an interest rate of 3 percent annually. Installment payments are set to begin on October 15, 2029.
During the phone call, Putin affirmed the importance of boosting relations with Egypt in the coming period.
The head of the Executive Council of the Autonomous Administration of North and East Syria Abdul Hamid al-Mahbash had stressed in a Friday statement the need to pay attention to "Turkey's conspiracies", sending its militias to Libya and other regions as part of its "expansionist agendas."
Bloomberg reported an official in the GNA saying that his government had first opposed the idea of using militias who were present in Syria at the beginning, but accepted it once the Libyan National Army began to make progress in Tripoli.
Edited translation from Al-Masry Al-Youm