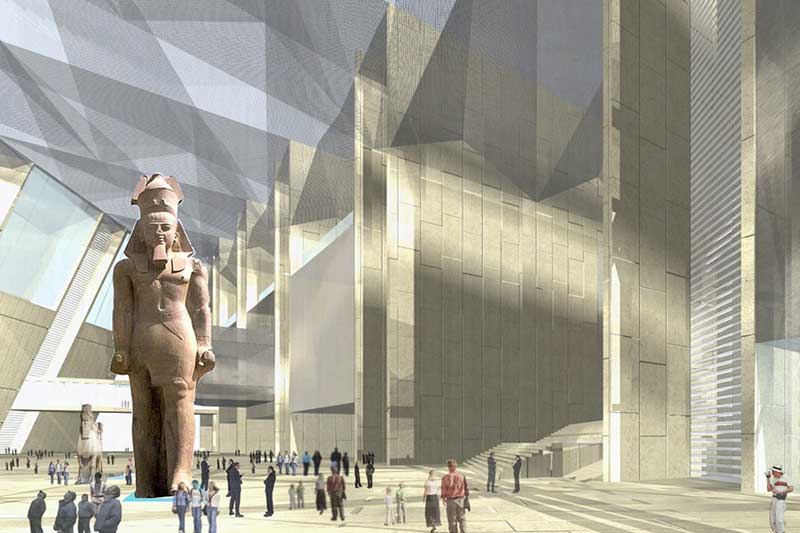 Egyptian President Abdel Fattah al-Sisi on Saturday moved to delay the opening of the Grand Egyptian Museum and the National Museum of Egyptian Civilization, alongside plans to relocate the state apparatus to the New Administrative Capital until 2021.
An Egyptian presidency statement on Saturday confirmed these delays are a consequence of the coronavirus outbreak and the measures to contain it locally and globally.
This decision also includes postponing planned events and the openings of major national projects planned for this year, the statement added.
The statement came after Sisi met with Prime Minister Mostafa Madbouly, Housing Minister Assem al-Gazzar and the President's Adviser for Urban Planning.
Their meeting went over the work strategy for the coming period regarding construction sites, in light of the coronavirus crisis and its repercussions.
President Sisi ordered that the highest levels of prevention be applied, with safety and health care provided for workers at construction sites.
Egypt government has shut down schools, suspended flights and imposed a nationwide curfew and halted Friday prayers and congregational prayers, closing all mosques, as part of its efforts to curb the spread of the new coronavirus.
Egypt on Friday confirmed eight additional deaths and 120 new coronavirus cases, bringing the country's number of confirmed total cases so far to 985. Sixty-six people have died from the virus in Egypt.
The head of the Egyptian Cabinet's Crisis Management Chamber Mohamed Abdel Maksoud anticipates that Egypt will enter the third stage of coronavirus transmission soon after hitting 1,000 cases.
Once it hits 1,000 infections and Egypt enters into stage three, infection rates will skyrocket compared to now. Worse still, infection sources will become untraceable to diagnosed cases.