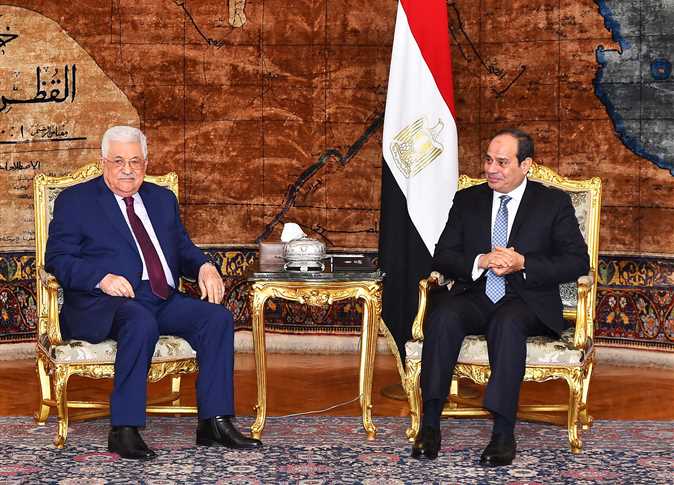 Egyptian President Abdel Fattah al-Sisi on Saturday received his Palestinian counterpart Mahmoud Abbas in the presence of Abbas Kamel, head of the Egyptian General Intelligence Service at the Ettehadiya Presidential Palace .
Egypt's Presidential Spokesperson Bassam Rady said that the meeting saw discussions regarding the latest developments of the Palestinian case in light of recent developments and the announcement of the US peace plan, which includes a vision to settle the Palestinian case and the future of its solution.
Sisi stressed that Egypt was and still is at the forefront of countries seeking to achieve comprehensive and just peace in the Middle East region, as Egypt adopted has peaceful coexistence and renounced violence as a strategic approach to its policy for more than 40 years.
Egypt has devoted its efforts to spreading that culture in the region as the only way to achieve security, stability, development and prosperity for its people to change their reality for the better, he said.
Sisi clarified that the Egyptian position towards resolving the Palestinian case is through the establishment of an independent and sovereign state in occupied Palestinian territories, coming in accordance with international legitimacy and its decisions.
He stressed that there is no alternative to direct negotiations between the parties to the conflict until a settlement can be agreed upon within a comprehensive framework guaranteeing the sustainability of the settlement, ending the suffering of the Palestinian people by restoring their full legitimate rights, and preserving the rights of all parties to life and security, stability and peace.
On his end, Abbas expressed appreciation towards Egypt's sincere and endeavored efforts to support the Palestinian case, praising Egypt's role in this regard and its stability in reaching a just and comprehensive solution to the Palestinian issue.
Abbas also praised Egypt's unremitting efforts to push the path of national reconciliation and build bridges of trust between the Palestinian factions, creating support in facing any challenges and achieving the desired peace.
He stressed the Palestinian Authority's determination to move forward to end the division in an effort to unify the Palestinian people.
Rady said that the two presidents agreed during the meeting to continue intensive cooperation regarding various aspects of the Palestinian issue, in a way that contributes to achieving the hopes of Palestine's people, enabling them to build their independent state and guarantee a better future for generations to come.
Edited translation from Al-Masry Al-Youm