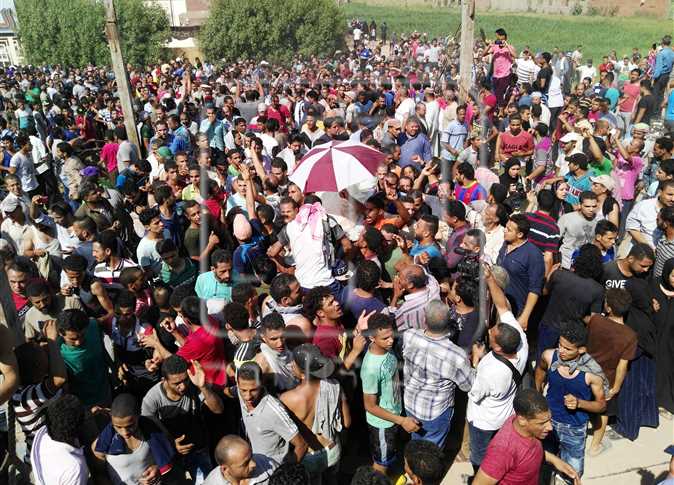 Head of the Engineering Authority of the Armed Forces Major General Kamel al-Wazeer met a delegation of al-Warraq island's residents to discuss ways to compensate people whose houses were demolished, informed sources told al-Masry al-Youm Wednesday.
President Abdel Fattah al-Sisi joined the meeting via telephone, assuring the residents directly that no one would be harmed.
The meeting lasted about 4 hours, during which the delegation of 40 property-owning residents presented their concerns, affirming their support for any development plans made by the government on the condition that there would be no displacement of people from their homes.
According to the sources, Wazeer told residents that buildings on state land will be removed, whereas agricultural land on the island will be preserved.
Wazeer maintained that owners of these buildings will be financially compensated LE4.8 million per acre of land, if they leave voluntarily. If the residents wish to stay, a residential quarter will be allocated for them, without compensation.
Violent clashes erupted last month between residents of the island and police forces, whom were overseeing demolition orders for buildings illegally established on state land ahead of a project to develop the island. One man was killed, with 44 injured.
A number of development designs for Warraq, prepared by an Egyptian and a Emirati-Singaporean contracting company, went viral following the clashes.
Al-Masry Al-Youm verified the circulated photos, confirming they belong to Emirati-Singaporean company RSP and local firm Cube Architects. The two companies had published the photos of sketches for the Warraq island development project on their official websites.
The Egyptian government contracted with RSP on March 31, 2013 to develop the island, according to the company website.
However, the Housing Ministry has denied that there were any contracts between the two companies and the ministry, stressing the absence of any negotiations or consultations with them.
Edited translation from Al-Masry Al-Youm