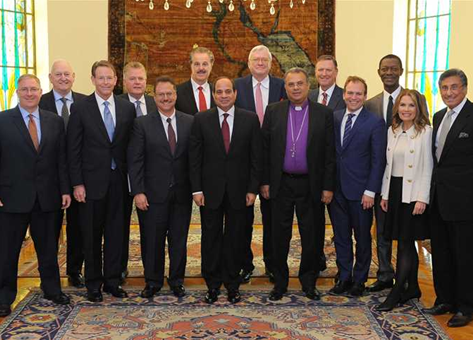 Egyptian President Abdel-Fattah al-Sisi met on Sunday leaders from Evangelical churches around the world as part of the celebration by the Egyptian Evangelical Church of the start of the Evangelical Reformation 500 years ago.
The President congratulated the delegation on the anniversary, while also expressing his gratitude towards Egyptian Evangelical Christians.
The parties discussed a host of issues of mutual concern and called for solidarity in confronting and eliminating terrorism in the region.
Head of the delegation, New York Times best-selling author Joel C. Rosenberg, expressed his enthusiasm after convening with Sisi. "We came away very impressed and encouraged that Egypt is moving in the right direction, and we thank God for that," Rosenberg said during an interview on the radio show Washington Watch, guest-hosted by NRB President & CEO Jerry A. Johnson
The meeting, which was scheduled to last for one hour ended up going on for nearly three.
"President Sisi's courage impressed us, but also his humility, his openness to meet with evangelical Christians and to say he's working for an Egypt that's safe and free for anyone – Muslim, Christian, Jew, Atheist, anybody. They've got a long way to go, but they're making tremendous progress," Rosenberg reported.
However, the schedule for their visit did not end at that. The delegation was welcomed into the home of Former Egyptian First Lady Jehan Al Sadat, where they sat down for tea in what she called "the house of peace."
Finally, the delegation ended their trip to Egypt by meeting with two top-tier Islamic leaders, the Egyptian Minister of Religious Affairs and Endowments Muhammad Jumu'ah and Grand Mufti Shawqi Allam, followed by lunch and an afternoon roundtable discussion with 60 Evangelical and Protestant pastors.
Egypt's Christians, mostly made up of Copts, represent an estimated 10 to 15 percent of the Egyptian population of 104 million. While no exact figure exist, the number of Evangelical Christians in Egypt is believed to be about 250,000.