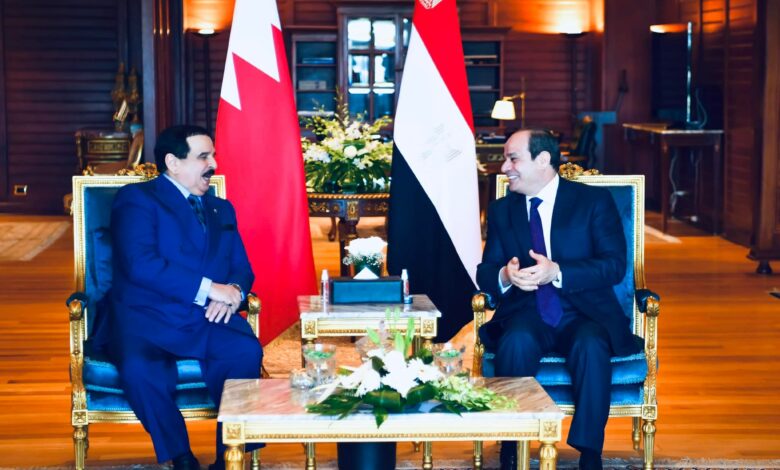 President Abdel Fattah al-Sisi on Wednesday visited the Sakhir Palace in the Bahraini capital, Manama, to meet with King of Bahrain Hamad bin Issa Al Khalifa, the official spokesperson for the presidency Bassam Rady announced.
Issa welcomed Sisi as a dear guest to Bahrain, expressing the Bahraini nation's pride in the strong historical ties and close relations it shares with Egypt, Rady added.
The Bahraini king also hailed Egypt's essential role under Sisi's leadership in in protecting Arab national security.
Sisi thanked Issa for the warm reception Egypt's keenness to develop close bilateral cooperation and of the depth of relations the two countries share.

Sisi also expressed his desire to intensify the pace of bilateral meetings between senior officials of the two countries periodically, the latest of which was the Issa's recent visit to Sharm el-Sheikh to participate in the tripartite summit that brought the two leaders together with the King of Jordan.
Rady added that during the meeting, the two leaders discussed various aspects of bilateral relations and international issues of common concern.
Issa affirmed that his country's position matches the current Egyptian efforts to settle various disputes in the region, stressing that Egypt will always remain Bahrain's pivotal partner in the region.
The two leaders shared views on the imminent convening of the upcoming summit between the Gulf states, Egypt, Jordan, Iraq and the US, scheduled to be held in Saudi Arabia.
At the end of the talks, the leaders witnessed the signing ceremony of a number of agreements and memoranda of understanding in economic, scientific and technological cooperation, investments, legal and judicial cooperation, export development, exhibition organization, environmental protection, education, and sea and air freight services.