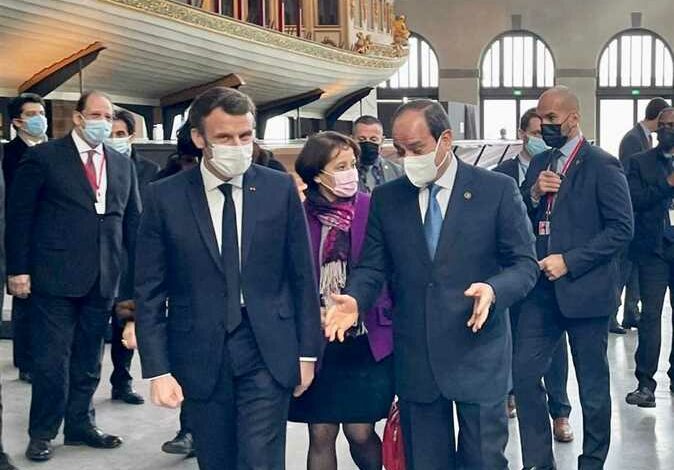 Egyptian President Abdel Fattah al-Sisi on Friday met with French President Emmanuel Macron in the French city of Brest.
The meeting followed up on several issues regarding strategic bilateral relations between Egypt and France, according to the spokesperson for the Egyptian Presidency, Bassam Rady.
Rady pointed out that the Egyptian-French relations have seen great developments in recent years, especially regarding economic, commercial, military and security concerns.
Macron welcomed President Sisi's latest visit to France, stressing his country's pride in the strong relations it has with Egypt, which gained more momentum during President Sisi's recent multiple visits to France.
The French administration is committed to supporting President Sisi's tireless efforts to achieve comprehensive and sustainable development and combat terrorism in the entire region, Macron added.
Sisi said that Egypt places special importance on strengthening cooperation with France in various fields, especially regarding the transfer of France's developmental expertise and technologies.
He also noted that consultations with France being planned regarding various issues of political, security, military and economic interest, in order to preserve the security of the Middle East, Mediterranean basin and the African continent – especially under the current French presidency of the European Union.
Rady said that the meeting touched on the latest developments in Libya, where President Macron expressed his country's appreciation for Egypt's efforts to preserve Libyan national institutions and promote the path of a political settlement to the crisis.
Sisi and Macron agreed on joint efforts between the two sides to help Libya restore security and stability in their country, especially through the exit of mercenary and foreign forces in all their forms from Libyan territory, and the elimination of terrorism.
The two sides also reviewed ways of cooperation and joint coordination during Egypt's hosting of COP27 conference in Sharm el-Sheikh in November of this year.
President Sisi said that his response to the French President's invitation to participate in the "One Ocean" summit reflects Egypt's keenness to cooperate with France in this field, stressing that Egypt attaches utmost importance to protecting the marine environment.