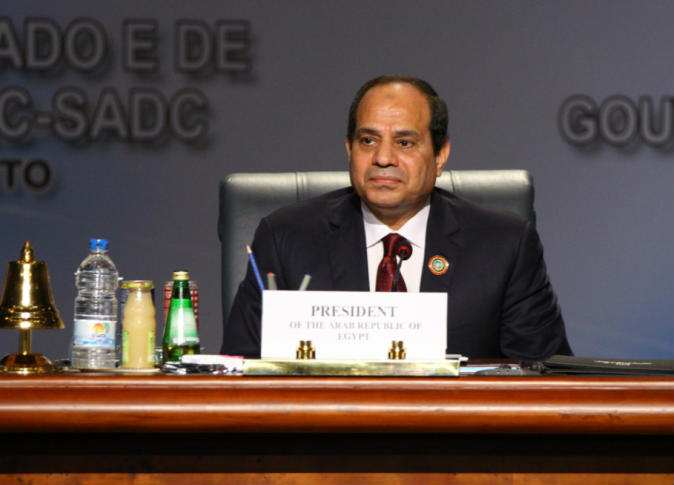 President Abdel Fattah al-Sisi touched on bilateral relations with the US and Saudi Arabia, as well as local issues, in the second part of his interview with the editors-in-chief of three Egyptian newspapers—Al-Gomhoria, Akhbar Al-Youm and the main state-run newspaper Al-Ahram.
Sisi said his US counterpart Donald Trump has confidence in his abilities and is someone who only accepts success, adding that Trump is considered a decisive factor in settling the Israeli–Palestinian conflict.
"The Palestinians and Arabs are ready for peace and there is an opportunity for peace that should be exploited by both sides," the president said.
On other Middle East matters, Sisi asserted that cooperation and coordination between Egypt and Saudi Arabia has reached their highest levels in all fields, stressing that he will participate in the American–Islamic and Arabian summit that is scheduled to take place in Riyadh on May 21.
Moving to local issues, Sisi was asked if he is intending to run as a candidate in the upcoming 2018 presidential elections. He responded that the current timing is not right to declare his stance on the matter.
The interview also touched on the recently circulated reports of a potential dispute between the presidency and the State Council, Egypt's high-ranking judicial authority, which nominated only one candidate to succeed the current director, instead of three candidates as stipulated by law.
Sisi said the judiciary is a respectable institution, adding that the nomination he received is the State Council's choice and he will make a decision that is consistent with the law and Egypt's best interests.
The president said that terrorism no longer represents a threat to the survival of the state, in reference to the setback militants experienced in North Sinai thanks to the efforts of the Armed Forces and local tribes.