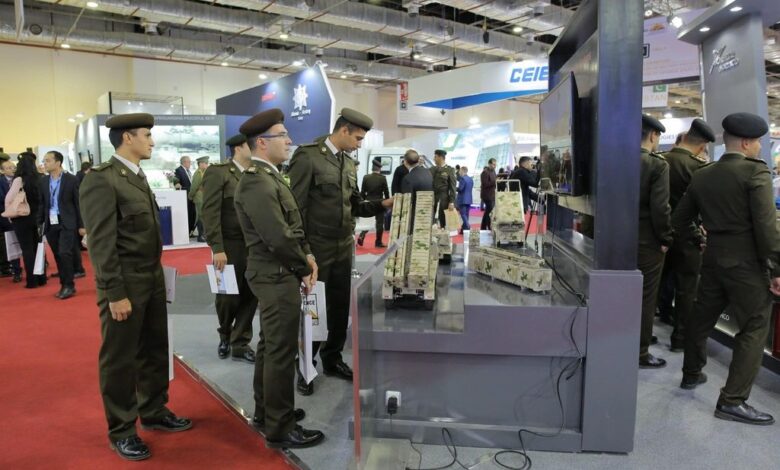 Egyptian President Abdel Fattah al-Sisi inaugurated on Monday the second edition of Egypt Defense Expo – EDEX 2021.
"The attendance is huge and reflects our ability to organize, as well as the size and strength of the participating companies," Sisi said.
The exhibition kicked off on Monday and continues until December 2 at the "Egypt International Exhibition Center" in New Cairo.
The organizing company, AWE, announced that the exhibition this year witnessed the attendance of about 400 exhibitors from 42 countries to display the latest technologies in defense and armaments, alongside the attendance of official delegations of dignitaries from 45 countries, many military delegations and more than 30,000 visitors.
The Minister of Defense and Military Production Muhammad Zaki said that Egypt desires to receive the most important pioneers in the defense systems industry worldwide, and noted that the event is expected to develop in size and strength in its second edition compared to the successful first edition.
He noted the keenness of the General Command of the Armed Forces to follow all precautionary measures to ensure the health safety of visitors during the exhibition's activities.
This exhibition comes to open new horizons of cooperation between Egypt and various countries of the world in the field of military industries, he said, as EDEX has become an effective international umbrella to review the latest systems of military, defense and technological industries globally.
The Minister of State for Military Production, Mohamed Ahmed Morsi, explained that more than 40 defense ministers or military production and military commanders from around the world are participating in EDEX 2021, explaining that there is an entire system behind the organization of the largest exhibition in the Middle East.
The exhibition will witness the launch of new Egyptian weapons with the participation of the Ministry of Defense, the Ministry of Military Production, the Arab Organization for Industrialization, the Arab International Optronics Company, the Egyptian Naval Arsenal, the Marine Industries and Services Organization, the National Service Projects Organization, and Vehicles Engineering industrial complex.