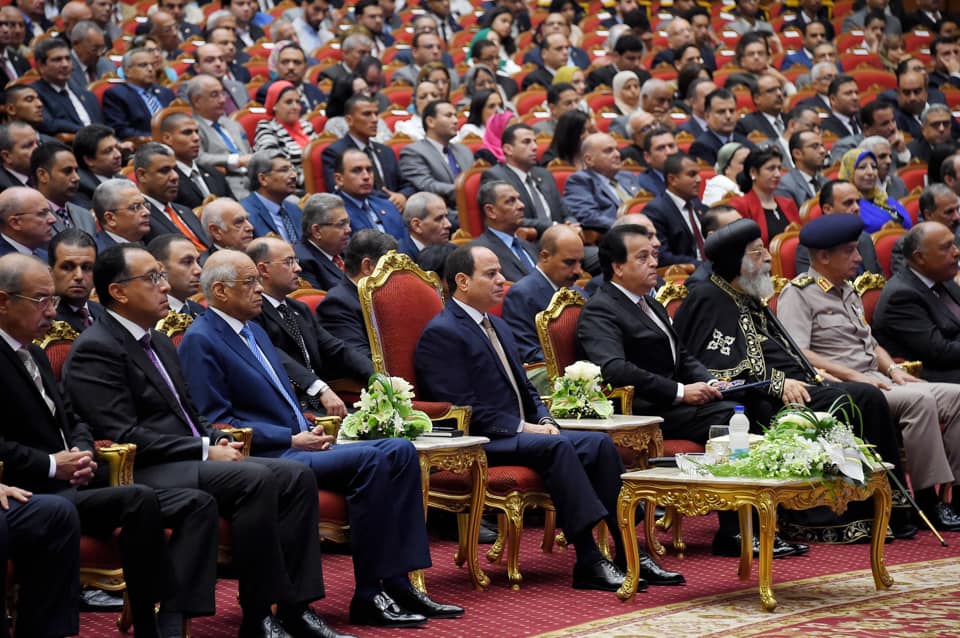 Egyptian President Abdel Fattah al-Sisi honored several university professors who won state awards during the Science Day celebration held at the Manara International Conference Center in New Cairo on Sunday.
Sisi delivered a speech during the ceremony where he said that Egypt attaches great importance to building healthy citizens and raising their cultural and scientific standards. He added that this was the reason behind announcing 2019 as the Year of Education in Egypt, coming from the belief that science and education are the basis for societal development.
Calling the Egyptian people the treasure of the nation, Sisi stressed the importance of building up the standards of health, science and culture.
The President saluted the professors for their outstanding efforts in serving their nation, and said that there is no better alternative than using science and technology to upgrade the nation and base the Egyptian economy on knowledge.
Heading a university delegation during the celebration, Cairo University President Mohamed al-Khosht said that Cairo University ranked first in the state awards by about 26 percent.
Alexandria University President Essam al-Kordy said that this honoring reflects the President's keenness to sponsor science and support Egypt's universities. He added that his university is constantly proud of its scientists, researchers and research achievements across local and international forums.
Several of the honored scientists include the winners of the Nile Award for 2017 and 2018; Mohammed Abdel Qader Ali, Nephrology Professor at the Mansoura University and Gamal al-Din Ibrahim Mohammed, Professor at the Azhar Faculty of Medicine.
The honored scientists also include Nabil Abdel Basset, a researcher at the National Research Institute, who won the state's award in Advanced Technology Science.
For winners of the State Awards of First Class for 2017, the president honored Nabil Abdel Maguid, a researcher at the National Research Institute, Hani Abdel Azizi of the Faculty of Agriculture at Cairo University, Taymour Mostafa of the Faculty of Medicine at Cairo University and Osama Ahmad Badari of the Faculty of Pharmacology at the Ain Shams University.
For winners of the State Awards in Advanced Technological Sciences, the honored scientists include Sherif Hussein Abdel Raziq of the Post Graduate Studies and Research Institute of the Alexandria University, Desouqi Ahmed Abdel Aleim of the Scientific Research City of Borg al-Arab, Hisham Gaber al-Anani of the Faculty of Medicine at Cairo University, and Engineering Scientist Amir Fouad Sureil of the Faculty of Engineering at Cairo University.
The president also honored winners of the State Awards in Science and Art in 2018, including Mohamed Labib of the Faculty of Science at Tanta University, Tarek Abdel Monem al-Deyasti at Mansoura University and others.
Edited translation from Al-Masry Al-Youm