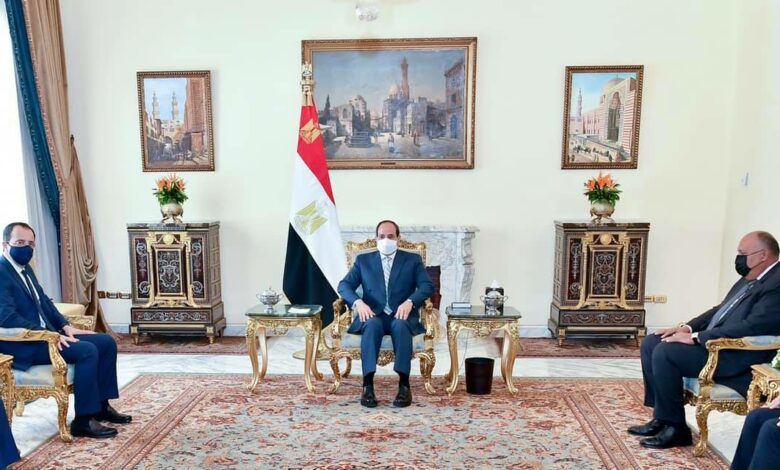 Egyptian President Abdel Fattah al-Sisi on Saturday received the Foreign Minister of Cyprus Nikos Christodoulides in the presence of Egyptian Foreign Minister Sameh Shoukry and the Cypriot ambassador in Cairo.
Sisi welcomed Christodoulides' visit to Cairo, stressing the growing strategic relations between Egypt and Cyprus in all fields and Egypt's keenness to strengthen joint cooperation between the countries especially in the fields of politics, military, commerce and energy.
He also stressed enhancing existing cooperation as part of the tripartite mechanism with Greece, in a manner that achieves common interests and goals for them in the eastern Mediterranean region – as well as confronting various challenges in the region.
Christodoulides expressed his country's pride in its close relations with Egypt, which represent a model for constructive cooperation between the Mediterranean countries, especially in light of Egypt's privileged position, regional weight and pivotal role in the region.
Cyprus will remain one of Egypt's steadfast supporters within the European Union, he said.
He added that it is within the mutual interest of Cyprus to strengthen joint cooperation between the two countries, as well as develop the tripartite cooperation mechanism between Egypt, Greece and Cyprus, which has been successful in achieving regular institutional cooperation regarding economic and social development in all three countries.
The meeting also shared viewpoints on regional issues of common interest in light of the stability of common positions between the two countries and the consistency of their interests in the Eastern Mediterranean region.
The meeting also affirmed that the East Mediterranean Gas Forum represents an important tool which would open horizons for cooperation and investment among countries of the region in the field of energy and gas.