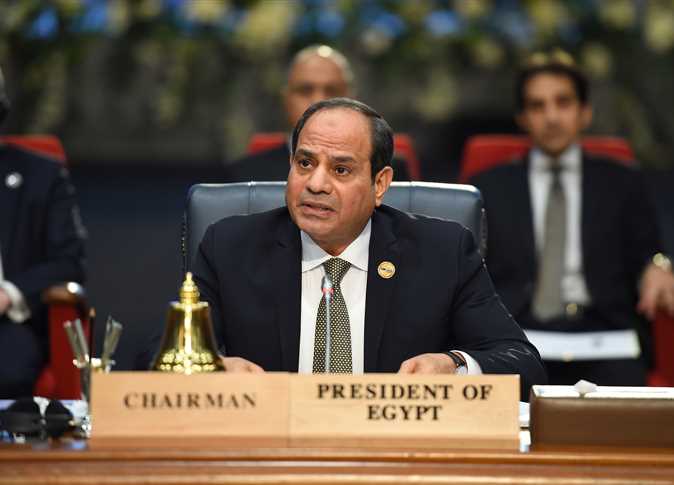 President Abdel Fattah al-Sisi on Thursday praised Egyptian women for their role in the fight against violent extremism and their perseverance through tough economic reforms at the Aswan Forum for Sustainable Peace and Development in Africa, during a session on "Enhancing the Role of African Women in Achieving Peace, Security, and Development."
"Every time a female official is appointed to any position, whether in the government or in a governorate, she is the most responsible, the most efficient, and the least corrupt," Sisi said, later praising Egyptian women for their role in helping to "preserve Egypt's identity" in 2013, when mass demonstrations led to former Egyptian president Mohamed Morsi's removal from office. 
Sisi went on to commend Egyptian women for their part in the state's fight against violent extremism and terrorism during the last five years, pointing out that at ceremonies honoring the families of those martyred in the fight against terrorism, "not a single woman" complained of the cruelty of losing their loved ones, whether sons or husbands.
Sisi said that terrorist groups, whether the so-called Islamic State or organizations like Boko Haram, represent an offense to women's rights and do not reflect the Islamic religion, adding that he would not approve any Personal Status Law that does not afford Egyptian women their rights. 
Sisi also praised Egyptian women for their perseverance during the country's painful economic reform program: "When the state took the steps of economic reform, we asked Egyptian women for help, and (they) did as we passed the most difficult reform program of its kind ever implemented in Egypt," Sisi continued. 
"She organized her life and silenced her children and her husband from expressing (their) pain, resentment, (and) rejection," he added.
Egypt floated its currency in November 2016, and the Egyptian pound has been reduced in value by about half since then. The move was key in helping Egypt clinch a three-year US$12 billion International Monetary Fund lending program tied to ambitious — and painful — economic reforms such as tax hikes and subsidy cuts. 
Edited translation from Al-Masry Al-Youm