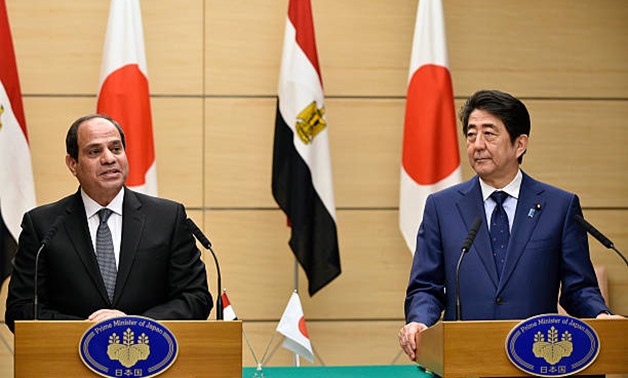 Egypt's President Abdel Fattah al-Sisi headed to Japan on Wednesday to participate in the G20 2019 Summit, which will take place June 28 and 29.
Spokesperson for the Presidency Bassam Radi said that Sisi would emphasize the need to exchange technology and increase foreign investments in developing countries to achieve sustainable development goals for 2030 and enable developed countries to increase their dependence on new and renewable sources of energy.
Radi clarified that Sisi would meet Abe to discuss ways of reinforcing bilateral relations in order to achieve the joint interests of the two countries and maintain political coordination on various regional and international issues.
Sisi will also hold a meeting with the Japanese business community and heads of major Japanese companies in Egypt to improve cooperation in the economic, commercial and investment fields.
On the sidelines of the G20 summit, Sisi will also meet presidents of countries and heads of governments participating in the summit to discuss bilateral cooperation and consultation on various regional and international issues.
The leaders of the G20 will gather in Osaka as Japan hosts its first ever G20 Summit. Concurrent with the Summit meeting, the Finance Ministers and Central Bank Governors' Meeting, the Foreign Ministers' Meeting, and other ministerial meetings will also be held at eight different locations throughout Japan.
Edited translation from Al-Masry Al-Youm