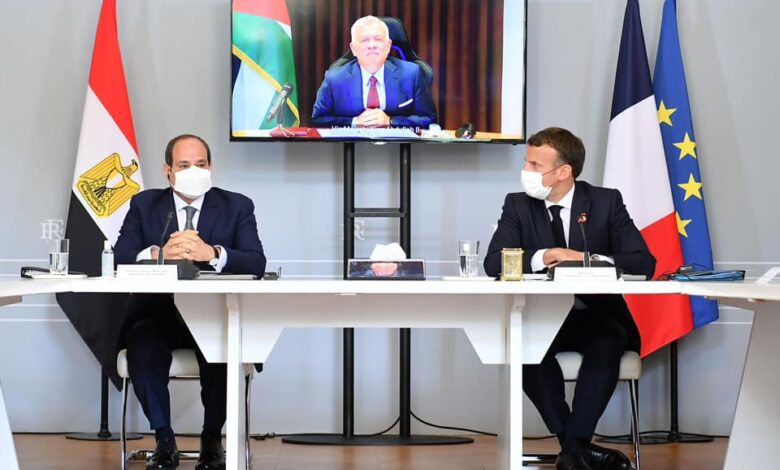 On Friday, President Abdel Fattah al-Sisi arrived in the French city of Brest to participate in the One Ocean Summit, Bassam Rady, the official spokesperson for the Presidency said, on his official Facebook page.
The summit comes within the framework of a series of summits concerned with environmental issues organized by the French side at the initiative of President Emmanuel Macron since 2017.
This year, the summit focuses on issues related to the seas and oceans, including preserving its vital systems.
In particular the combat of marine pollution of all kinds and the relation between seas and oceans with efforts to confront climate change.
Supporting the concept of a "sustainable blue economy" and mobilizing funding for it is also of importance. 
Sisi's participation in this important event comes upon an invitation from Macron among a limited number of heads of state and governments who are interested in international action to confront environmental degradation.
This comes in light of the close and growing relations between Egypt and France.
Rady referred to the vital role Egypt will play regionally and internationally in efforts and initiatives to confront climate change and protect the marine environment.
This will culminate with the 27th session of the Conference of Parties to Climate Change in Sharm el-Sheikh in November 2022.
Sisi will focus during the One Ocean Summit on the impact of climate change on the ecological balance in the seas, oceans and coastal areas, he added.
According to Rady, Egypt plans to shed bring up these important topics during the Climate Change Summit in Sharm el-Sheikh.
The role that oceans can play in reducing emissions and to building low-carbon economies.
The importance of enhancing efforts to reduce emissions in the shipping sector, a major contributor to the implementation of the goals of the Paris Agreement on climate change.
The program of Sisi's visit to France also includes holding summit talks with his French counterpart Macron: in order to discuss ways to enhance bilateral relations, which have witnessed a qualitative leap in recent years, in a way that achieves the common interests of the two friendly countries and people's.
As a way of continuing consultations and mutual coordination on a number of regional and international files of common interest.
On the sidelines of the visit, Sisi will also meet with a number of heads of states and governments to discuss advancing bilateral cooperation frameworks and consult on various regional and international issues.