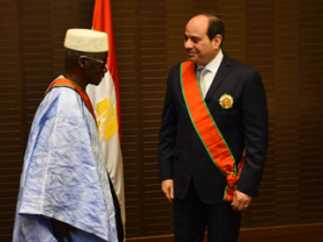 Abdel Fattah al-Sisi took part in a dinner banquet hosted by President Alpha Conde of Guinea during which the Egyptian president was given the National Order of Merit, the highest honor in the Republic of Guinea.
Ambassador Bassam Rady, spokesman for the presidency, said that the Guinean president delivered a welcoming speech for Sisi's visit to Conakry, describing Sisi's visit as "historic," since it has been more than five decades since the last visit of an Egyptian president to Guinea.
Conde stressed the importance of relations between the two countries launched since the independence of Guinea, stressing Egypt's pivotal role in the security, stability and sustainable development of the African continent.
He praised Egypt's current efforts to advance the African common action through its presidency of the African Union.
Sisi delivered a speech in which he thanked Conde and praised Guinean-Egyptian relations.
"I feel great honor and appreciation to be granted this high order today, which I consider to be the embodiment of the historic and deep ties that bind our two brotherly countries and peoples. I would like to emphasize that my current visit to your brotherly country Guinea will always have a special appreciation and value to me," Rady quoted Sisi as saying.
Sisi praised his visit to Conakry as hospitable, adding that he expected it to be a new starting point towards furthering bilateral relations in various fields to realize the aspirations of the two brotherly peoples, according to Rady.
Edited translation from Al-Masry Al-Youm