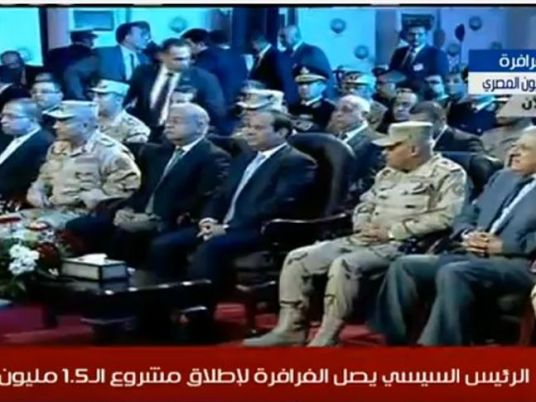 President Abdel Fattah al-Sisi arrived in Sahl Baraka at Farafra oasis on Thursday to celebrate a milestone event in a major land reclamation project that seeks to make use of desert land for farming, boosting the nation's agricultural output.
Sisi gave the starting signal for the harvesting of the first batch of wheat from the newly reclaimed desert land, which was prepared an planted over a four month period.
The Sahl Baraka project, which was launched in December, involves the reclamation of 10,000 acres of land, 7,500 of which was planted with wheat.
Speaking at the event, Sisi said great things had been achieved for Egypt since he came to power, of which the land reclamation project was just one example.
He said, LE1.3 trillion had been spent on national projects during his rule, with the resulting achievements representing an unprecedented accomplishment for any nation over such a short time span.
"I am never afraid. If I had been, nothing would have been achieved," Sisi said.
However, he also had a warning for the audience: "The more you succeed, the more evil people will develop schemes. Be careful."
Speaking of the land reclamation project, Sisi said that those involved had worked hard to overcome many hurdles.
"We eliminated a lot of bureaucracy and corruption and obtained a lot of permits that would have taken 10 or 15 years to be issued," Sisi said.
The Sahl Baraka project is just part of a land-reclamation mega-project that aims to transform 1.5 million acres, creating new urban-agricultural communities away from major population centers and contributing to the nation's agricultural output.
During his visit on Thursday, the president also opened a new drinking water station for the Farafra area.
The next phase of the mega-project includes the reclamation of 21,000 acres in the New Farafra area.
Edited translation from Al-Masry Al-Youm