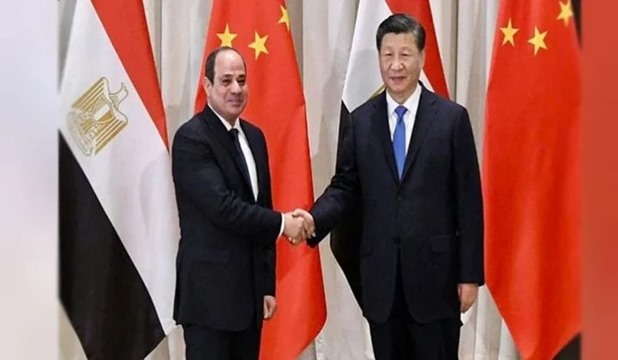 President Abdel Fattah El Sisi reiterated on Thursday 8/12/2022 Egypt's keenness on developing cooperation with China in different domains either at the Arab level or bilaterally through their comprehensive strategic partnership.
Sisi made the remarks during a meeting with Chinese President Xi Jinping.
Presidential Spokesman Bassam Radi said Sisi congratulated the Chinese president for his re-election as secretary general of the Chinese Communist Party for the third time.
He expressed hope for the further development of bilateral relations within the coming period.
The Chinese president congratulated Sisi over the successful organization of the global climate conference, COP27, saying China always seeks to promote its partnership with Egypt in all domains.
He said Egypt has many promising investment opportunities so there are wide prospects for promoting trade exchange and economic cooperation.
The spokesman said Sisi referred to an integration between the Belt and Road initiative and Egypt's development efforts, especially those related to the development of the Suez Canal corridor and the country' infrastructure, most particularly in the domains of roads, energy and ports.
He hoped of increasing the number of Chinese tourists visiting Egypt and the volume of Chinese investments in the Egyptian market, especially in the domains of localizing industrialization and the transfer of high technology.
The two sides exchanged viewpoints on challenges facing the Middle East as the Chinese president lauded the role played by Sisi to preserve regional security and stability through fighting extremism and terrorism.