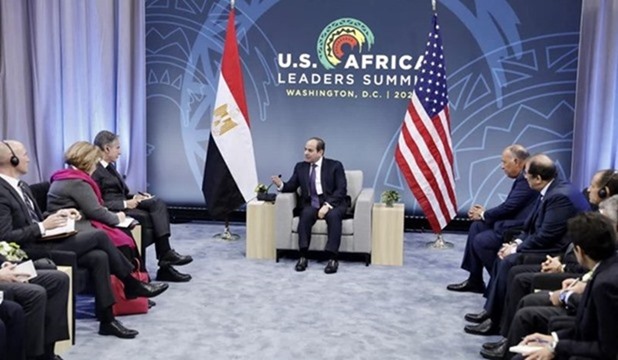 President Abdel Fattah El Sisi met in Washington with US Secretary of State Antony J. Blinken during the US-Africa Leaders Summit.
According to presidential spokesman Bassam Rady, Blinken welcomed Sisi's visit to the US capital, which falls within the framework of supporting relations between the two friendly countries and peoples in a constructive and positive way, stressing the US administration's commitment to strengthening the frameworks of joint cooperation with Egypt in various fields, and supporting its assiduous efforts for achieving security, stability and development in the region.
The meeting witnessed an exchange of views on all African issues in light of the current summit, with Sisi stressing that the African continent needs a full-fledged continental infrastructure that supports the implementation of efforts and initiatives that aim at serving the benefit of African countries, underlining the need for mobilizing resources and support from major countries and utilizing global development expertise to crystallize a comprehensive vision for building that infrastructure that is imperative for the success of the continent's development efforts.
The two sides also discussed a number of regional files of mutual concern, especially the issue of the Grand Ethiopian Renaissance Dam (GERD), with Sisi reiterating Egypt's adherence to implementing international law and reaching a binding legal agreement on the rules for filling and operating the dam to preserve Egypt's water security.
For his part Blinken emphasized the importance of a diplomatic resolution on GERD that would safeguard the interests of all parties, underscored commitment to the US-Egypt strategic partnership, commended Egypt's successful hosting of COP27, and discussed a wide range of issues, including Egypt's important role in promoting stability in the region and the decades-long bilateral defense ties.