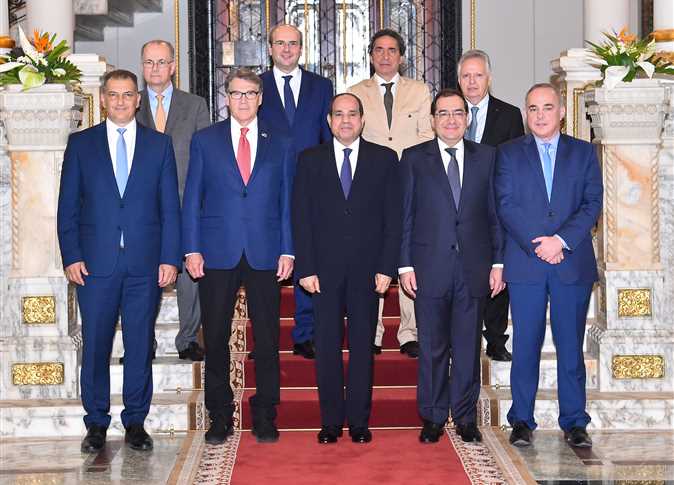 Egyptian President Abdel Fattah al-Sisi on Thursday received the delegation heads participating in the second ministerial meeting of the Eastern Mediterranean Gas Forum (EMGF) in the presence of Petroleum Minister Tariq al-Mulla.
Sisi stressed the importance of the EMGF in coordinating the policies of its member countries to develop the regional gas market in the Eastern Mediterranean, thereby unlocking the potential of the region's resources.
He added that this would develop a regional gas market serving the interests of the member states by securing supply and demand, optimizing the exploitation of resources, and enhancing inter-trade relations.
Gas discoveries in the Eastern Mediterranean region in recent years have opened up horizons of cooperation between the region's countries within the energy and gas fields, Sisi said, thereby diverting resources in the region to real investment opportunities for the benefit of the people and future generations.
Sisi stressed the importance of speeding up activating and starting up the EMGF's activities in an operational manner, especially as it represents a strong message to the international community and companies operating that serious efforts are in place to benefit from the region's natural gas resources.
He added that this helps to provide a sustainable energy source, establishing cooperation and peace.
President Sisi pointed out that Egypt is committed to providing all necessary support to the forum, to its headquarters in Cairo, and to commence its activities.
US Energy Secretary Rick Perry said that the forum had discussed Turkey's attempt to exploration in the territorial waters of Cyprus, but did not elaborate further.
Edited translation from Al-Masry Al-Youm