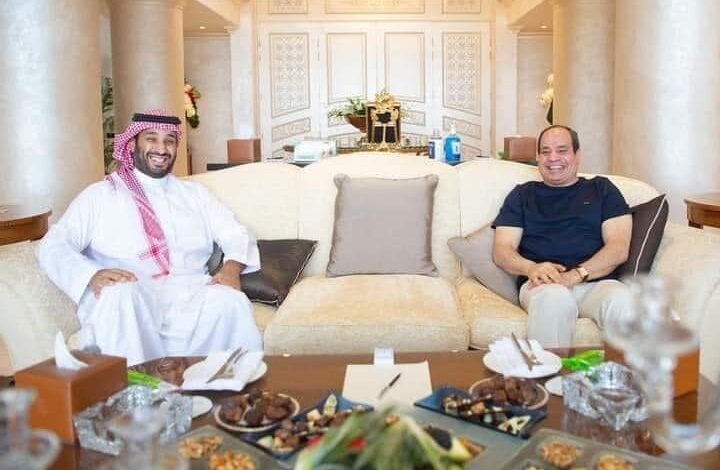 Egyptian President Abdel Fattah al-Sisi has denied any conflicts with Saudi Arabia, and warned the media and social media users to avoid any attempts to stir up sedition.
Parliamentarians and party leaders stressed that President Sisi's statements officially confirm the strength of relationships between the two countries.
The controversy began after posts and articles shared across social media between Egyptian and Saudi writers led to fears of a growing political dispute.
During the inauguration of an industrial project on Thursday, Sisi said "Egypt's policy has always been characterized by moderation, balance and strict discipline towards everyone at home and abroad."
He added, "I follow social media, and sometimes I see excessive enthusiasm. I do not want to say any offenses."
Sisi explained that he is not referring to internal issues, but rather to "issues related to our relationship with our brothers," stressing that "it is something that must be carefully paid attention to because it reflects the extent of our understanding and appreciation of relations with our brothers."
According to a report by CNN Arabic, the state-owned al-Gomhuria newspaper published on its website an article by its editor-in-chief, Abdel-Razek Tawfiq, which many considered an attack on Saudis – however it did not mention any country in that article.
The newspaper deleted the article, then published another one by the same writer, entitled: "Cairo and Riyadh… the beating heart of the Arab world," emphasizing "appreciation, respect, and pride in the relationship between Egypt and its sister Kingdom of Saudi Arabia."
Journalist and member of the Egyptian Parliament, Mostafa Bakri, said that there is no official crisis in relations between Egypt and Saudi Arabia.
"What happened was just a media war on social media, which sought to harm the relationship between the two countries," he explained.
Speaking to CNN Arabic, he said, "Egypt does not have any differences with any other Arab country, especially since the challenges facing the Arab nation at the present time are greater than any differences or attempts to offend."
And the deputy head of "Mostaqbal Watan" (Nation's Future Party) and head of the party's parliamentary bloc in the Senate, Hossam al-Khouli, said, "Relationships between countries remain by virtue of interests, and press articles or comments on social media platforms cannot affect them."