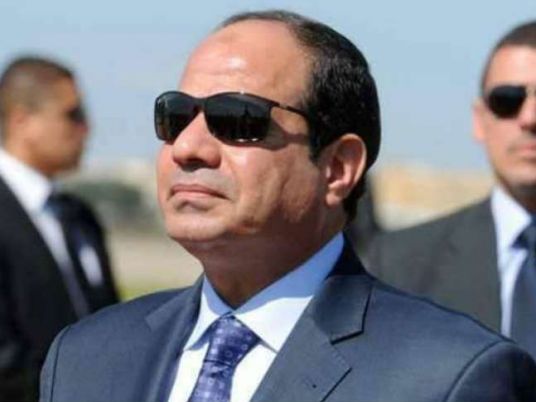 President Abdel Fattah al-Sisi met on Tuesday at the presidential palace in Heliopolis with a delegation of the US Congress, headed by Howard McKeon, chairman of the Armed Services Committee (Republican), and congress members Jeff Miller, Mike Conaway, Vicky Hartzler, Chris Stewart, Bradley Bayern, Steven Palazzo and Eric Swalwell (Democrat), in addition to the US embassy charge d'affaires in Cairo, David Ranz.
The delegation, which are visiting Jordan, Israel, Egypt and Morocco, expressed its economic and political support for Egypt and praised the Egyptian efforts to achieve stability at home and a truce agreement between the Palestinian and Israeli sides.
It has approved the supply of Apache helicopters to Egypt, pointing out that facing terrorism and extremism is a common battle for Egypt and the United States.
Presidential spokesperson Ihab Badawi said that Sisi reviewed the political developments in Egypt in the last three years and said what happened was an expression of the free will of the people and an embodiment of a pure popular desire by which the armed forces stood.
Sisi also said that the course of events in the region proved Egypt's assessment and its warning of the spread of extremist ideology from one country to the other until it would reach the Western countries.
He added that Egypt has regained its national bond that saw in the past few years vicious attempts to fragment it, causing some Egyptian Christians to leave the country.
He also said it is wrong to believe that the security solution, albeit pivotal, is the only way to face terrorism because it needs parallel economic and social measures.
"Instead of spending money on military combats with terrorism, major powers should help the moderate states in the region strengthen their economies and maximize their abilities to provide housing, food and a decent life for their citizens," he said.
In response to a question as to how long the war on terrorism in Sinai would last, the president noted that the government has a priority to preserve the lives of its citizens in Sinai and that it is doing its utmost to avoid civilian casualties during clashes with the extremist groups there.
"It can end quickly at the expense of innocent civilian lives, which we will not allow," he said. "Other combat strategies do not take human considerations into account."
Edited translation from Al-Masry Al-Youm