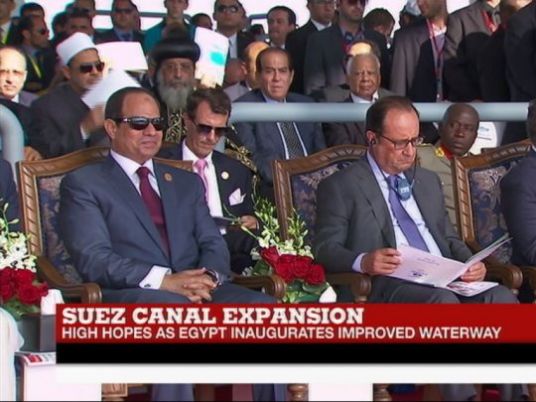 President Abdel Fattah al-Sisi has issued a strongly worded condemnation of the vicious terrorist attack that took place Thursday evening in the French city of Nice, killing dozens and injuring many more.
As of Friday morning, at least 84 people were reported dead after a man drove a truck at high speed through a crowd in an apparent terrorist attack. French police say the attacker was a 31-year-old French citizen born in Tunisia.
Sisi issued a statement on Friday morning offering his "sincere condolences to President François Hollande and the government and the people of the French Republic over victims of this brutal terrorist attack."
He stressed Egypt's solidarity with France and its full support for international efforts to combat terrorism "which knows no boundaries or religion and extends its treacherous hand to destroy and kill innocent people without discrimination in various countries of the world."
However, he expressed "full confidence that such terrorist acts will not weaken the resolve of countries and peace-loving people, but will rather enhance their determination to combat terrorism and defeat it in order to protect their existence."
He said that defeating terrorism requires the "concerted efforts of the international community through a comprehensive strategy to confront the scourge of terrorism aimed at destabilizing the security and stability around the world."
France and Egypt cooperate closely on military and security issues, exchanging intelligence on terrorism in the MENA region and globally.
Cooperation between the two nations has been focused by the recent downing of an EgyptAir passenger plane en route from Paris to Cairo. The two governments are investigating the cause of the crash, which killed 66 people, seeking to determine whether terrorists were responsible.
Egypt has made several expensive military hardware purchases from France in recent years, including two French Mistral-class helicopter carriers, an important step in the Egyptian government's efforts to boost the nation's military capabilities.
In early 2015, Egypt signed a deal for the supply of 24 Rafale aircraft, built by French company Dassault Aviation. The first three jets were delivered to Egypt last summer, and another three arrived early this year. The same deal saw Egypt purchase one FREMM-class multi-purpose frigate, as well as missiles.
In March of this year, France and Egypt held a joint military exercise dubbed "Ramses 2016", involving the naval and air forces of the two nations.
The two governments have asserted their intention to work together on defeating terrorist organizations, such as the Islamic Stage group, which thrive in the current environment of instability in the MENA region.
Edited translation from Al-Masry Al-Youm