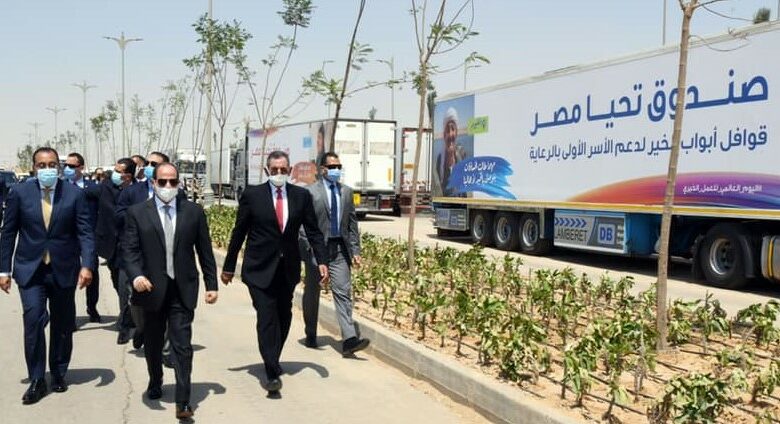 Egyptian President Abdel Fattah al-Sisi on Sunday called to increase the resources of the "Tahya Misr" (Long Live Egypt) Fund to bring more services provided to Egyptian citizens.
Sisi's remarks came during a press conference during the "Abwab al-Khier" (Gates of Goodness) celebration at the New Administrative Capital.
The government is working to transform the lives of citizens for the better, he assured, and desires to meet all their needs.
He continued, "We need more support for social initiatives in order to improve the lives of citizens, as well as improve the level of services provided to them."
"We need to develop our performance and hope to enhance the financial capacity of the Long Live Egypt Fund to support charitable work initiatives with the aim of transforming a citizen's circumstances from a difficult life to a good one,."
Sisi thanked everyone who contributed over the past years to the Long Live Egypt Fund.
"The state is working on full coordination between its various agencies and civil society organizations, in order to organize charitable work in Egypt," he added.
The president further stressed the state's keenness to vaccinate all workers in the educational system with the COVID-19 vaccine.
He directed citizens to take anti-viral measures and take the vaccine, especially university students and workers, to achieve collective immunity.
Egypt's presidency announced the establishment of the Long Live Egypt Fund on July 1, 2014, as part of the initiative of President Sisi to support Egypt's economy and support social justice.
It launched several humanitarian campaigns since its establishment in cooperation with NGOs and contributed to national projects.
The fund aims at continuous and inclusive economic growth and poverty reduction, meeting the needs of the poorest, forging partnerships between the local, regional and international sectors as an entry point for sustainable development.
It also aims at encouraging the participation of the private sector as an essential axis to advance development in partnership with the responsible government agencies.