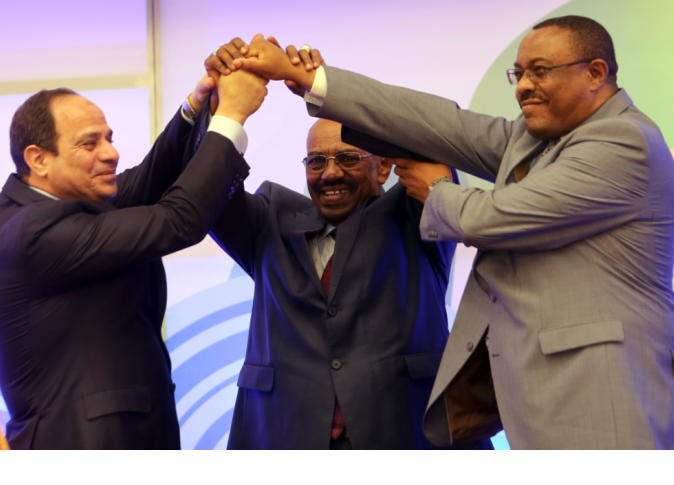 Egypt president Abdel Fattah al-Sisi met his Sudanese counterpart Omar al-Bashir at the headquarters of the African Union in Addis Ababa, Ethiopia, on the sidelines of the African Summit.
Sisi had met earlier, on Monday, with Ethiopian Prime Minister Hailemariam Desalegn. Both stressed their cooperative approach towards the tripartite technical talks of Egypt, Sudan and Ethiopia over the Renaissance Dam.
According to MENA, Egypt's foreign minister Sameh Shoukry said that talks between Sisi and Bashir on Monday discussed bilateral coordination between Egypt and Sudan, and agreement on a tripartite level as wel with Ethiopia.
In 2011, Ethiopia started construction on the Renaissance Dam over the Blue Nile River, one of the major sources of the water that forms the River Nile downstream.
The dam is expected to be ready by 2017. Ethiopians see as is a great national project and a means of overcoming poverty.
Egypt fears the dam will affect its historic Nile water share of 55 billion square meters, which it has had access to since a 1959 agreement with Sudan. Ethiopia, meanwhile, has reassured Cairo that its water share will not be affected.
Shoukry stressed that today's talks covered areas of cooperation between Egypt and Sudan, and the importance of strengthening ties between the two countries for the best of their interests, according to MENA.
He reiterated his confidence that the interdependence and solidarity that exist between the two countries will lead to further progress and protect the interests of the two countries in the face of the challenges that surround them.