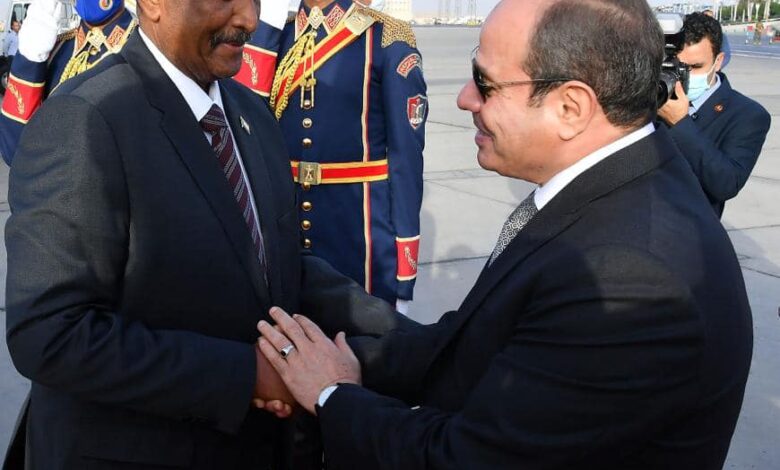 Egyptian President Abdel Fattah al-Sisi on Saturday received, at the Ittihadeya Presidential Palace, the head of the Sudanese Transitional Sovereign Council Abdel Fattah al-Burhan.
Egypt's presidential spokesperson Bassam Rady said that Sisi welcomed Burhan's visit to Egypt, praising the strong and eternally binding relations between Egypt and Sudan.
Sisi expressed Egypt's aspiration to deepen and strengthen these ties to better achieving the interests of both nations, especially regarding security, military, economic and commercial areas.
He affirmed Egypt's keenness to provide all means of support to achieve political, security and economic stability in Sudan.
Sisi noted that this is based on Egypt's full support for Sudan, the close connection between Egyptian and Sudanese national security, and the historical ties that unite the peoples of the Nile Valley.
Brotherly bonds
Burhan expressed the deep appreciation that Sudan has for Egypt at the official and popular levels, his pride in the extended ties between the two friendly countries, and the firm popular and governmental rapprochement between Egypt and Sudan.
He praised the unlimited Egyptian support through various forums to maintain the safety and stability of Sudan.
The meeting witnessed a review of the overall bilateral relations between the two countries.
It emphasized the importance of strengthening economic relations and increasing trade exchange to bolster political and military relations, and complement the historical ties that unite the two nations.
The two sides also reviewed the latest developments in regional issues of common interest, including the developments of the Grand Ethiopian Renaissance Dam, where it was agreed on the continuation of intensive consultation and mutual coordination in this context during the coming period for the common interest of the two brotherly countries and peoples.