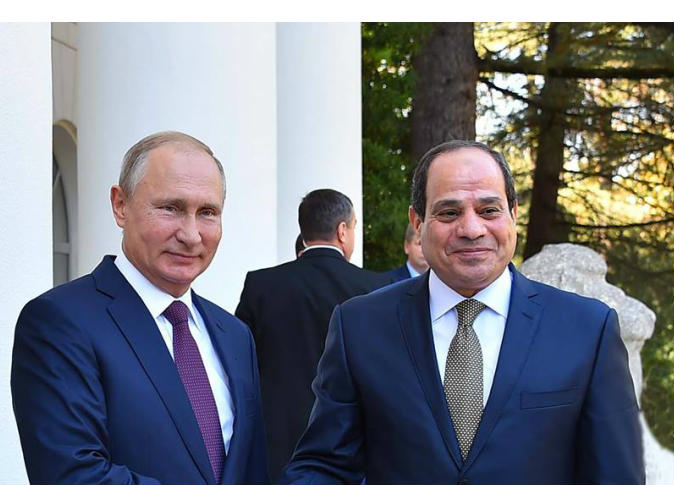 Egypt's President Abdel Fattah al-Sisi arrived Tuesday at Sochi, Russia, to co-host the "Russia and Africa: Uncovering the Potential for Cooperation" summit held from October 22-25, along with Russia's President Vladimir Putin.
Sisi and Putin will deliver speeches at the opening session of the summit.
The Russian-African summit focuses on three main themes: developing economic relations, establishing joint projects, and cooperation in humanitarian and social fields.
Participants are expected to discuss prospects of Russian-African cooperation in fields of investment, industry and trade, housing, science and technology, education, media, infrastructure, nuclear technology, Africa's economic independence, joint cooperation in the diamond industry, business environment, digital transformation, mineral resources, agriculture, health systems, and the contribution of Russian and African youth to sustainable development.
Sessions will also focus on growth points, long-term joint ventures and economic zones as a model for the effective localization of production, and the potential in special economic zones such as the Russian Industrial Zone in Egypt.
Participants in the the session dedicated to the Russian industrial zone in Egypt include the Chairman of the Suez Canal Economic Zone Yehya Zaky, the President and Chairman of the Board of Directors of the African Export–Import Bank Benedict Okey, the Director General of Russian Industries Elia Pomigalov, the director of the Russian Export Center Group Andrey Slepnev, and the chairman of the Russian-Egyptian Business Council Mikhail Orlov.
An exhibition for Russia trade partners will be organized on the summit's sidelines to introduce the economic, scientific, environmental and cultural capabilities and innovations of participating countries in fields such as mining, chemistry, machinery, energy, agriculture, transportation, and public health.
Statistics show that the volume of trade exchange between Russia and African countries increased by more than 17 percent in 2018, exceeding US$20 billion.
From 2010 to 2017, the total volume of Russian exports to Africa tripled from $5 billion to about $15 billion.
The volume of trade exchange between Egypt and Russia increased significantly in 2018, reaching about $66.7 billion.
The volume of Egyptian exports to Russia increased by 1.4 percent during 2018 to reach about $4.552 million, compared to roughly $6.505 million in 2017, as a result of the increase in the volume of Egyptian exports of agricultural crops and industrial commodities, especially food and chemical products.
Edited translation from Al-Masry Al-Youm